First Look at Poster For 'Milo Murphy's Law', Starring 'Weird Al' Yankovic
When we spoke to "Weird Al" Yankovic in June, he was very excited about playing the title character on the new Disney XD cartoon Milo Murphy's Law. In it, he plays Milo Murphy, the great great great grandson of the person who inspired Murphy's Law.
RELATED: 'Weird Al' Yankovic on Being Comedy Bang! Bang!'s New Bandleader
"Basically, Milo is like a walking jinx, like everywhere he goes, things blow up, fall apart," Al said, "but he's a very optimistic, and very happy kid, and he embraces the chaos."
RELATED: Disney XD to Turn Big Hero 6 Into an Animated Series
Below is a first look at the poster for the show, which premieres on October 3, with a preview episode airing on September 26. As you can tell, Milo's Extreme Murphy's Law condition (EML for short) means that the world around him better watch out! In addition to the artwork, Al tweeted the opening sequence, whose theme song he wrote and performed:
Milo Murphy's Law, Series Premiere, Monday, October 3, 8/7c, Disney XD.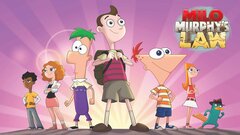 Powered by