Watch My Show: Steve Maeda on Why You Shouldn't Miss Helix
Syfy's Helix stars Billy Campbell as a Centers for Disease Control pathologist, now discredited, looking into a mysterious corporation run by an army of immortal humans bent on creating mischief. In Season 2, the action takes place on a secluded island, where a religious cult lives and a new viral outbreak is underway. Executive producer Steve Maeda, whose credits include Lost, knows a thing or two about mysterious islands, after all. Helix does especially well with time-shifting viewers, outperforming all other Syfy dramas in DVR growth from live viewing to live-plus-3 ratings. We asked Maeda to answer our showrunner survey and explain why Helix is contagious.
I've got room in my life to watch just one more show. Tell me why it should be yours.
Maeda: Helix is a mind-blowing mix of weird, unsettling, horrific science fiction and character drama, all set to the jaunty strains of a bossa nova. There's no other show on television like it. Now, or ever.
Who should be watching?
Maeda: Anyone who likes their sci-fi served fresh – which is to say, "highly infectious and crawling with mycotoxin."
What happens if we don't watch your show?
Maeda: Your TV will explode. And those flatscreens are damn expensive.
What's the best thing anyone has said or written about your show?
Maeda: "Helix is a strange show … both deadly serious and deliciously satiric."
What's the worst thing?
Maeda: "Fully-potted nonsense."
Who was right?
Maeda: Easy answer… since I prefer my nonsense "half-potted."
What's an alternate title for your show?
Maeda: Helix or: How I Learned To Stop Worrying And Love Dionne Warwick.
Give us an equation for your show.
Maeda: The Island Of Dr. Moreau plus Outbreak divided by Dustin Hoffman's height, times The Andromeda Strain times Dr. Strangelove times The Shining, plus Burt Bacharach's horn section.
Come up with a premise for the spin-off.
Maeda: Two And A Half Broke Girls. You will not get this reference until the opening sequence of Episode 12.
What credit of yours would you prefer we forget?
Maeda: Manimal.
Tell me one thing about your cast.
Maeda: We have several cast members who are series leads for the very first time – Kyra Zagorsky, Neil Napier, Jordan Hayes, Meegwun Fairbrother – and they are remarkable. Not to mention how fortunate we are to have seasoned pros like Billy Campbell and Hiroyuki Sanada on our roster.
If you weren't producing this show, what series would you most like to be an executive producer on?
Maeda: Game of Thrones. Massive jealousy.
Let's scare the network. Tell us an idea that didn't make it on to the screen.
Maeda: I'd like to set every season in a completely new and unique location so we have to trash our existing sets and wardrobe. Oh wait… That is what we do.
Finish this sentence: "If you like _______, you'll love our show."
Maeda: American Horror Story.
Pick another show, any show, to start a fake feud with.
Maeda: Parenthood. I think our sweet, supportive inter-generational family dynamic leaves the [email protected]#$%!* Braverman clan in the dust.
What other show would you like to do a cross-over episode with — and how would that go?
Maeda: Outlander (from our very own Ron Moore and Maril Davis). In 18th century Scotland, Claire and Jamie meet Hiroshi Hatake – an immortal envoy from the mysterious Far East.
How will your show change the face of TV as we know it?
Maeda: I hope Helix will be seen as a wholly original mashup of sci-fi, horror, and dark humor. Emotional and thought-provoking, while not taking itself too seriously. That's right, Bravermans, I'm talking to you!
Helix airs Fridays at 10/9c on Syfy.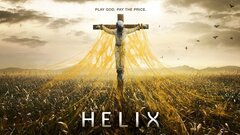 Helix
where to stream
Powered by