Critic's Notebook: Going Home One Last Time With Parenthood
A few weeks ago in this waning month of Parenthood, uber-(grand)parents Zeek (Craig T. Nelson) and Camille (Bonnie Bedelia), from whom the sprawling Braverman family tree took root, embarked on a wistful trip down memory lane. They drove to their old home, where they had raised Adam, Sarah, Crosby and Julia, and nurtured their kids' own various offspring until it was time to acknowledge the twilight of their years and move to more modest digs. Zeek, on a collision course with his own mortality in this moving final season, was on a quest to retrieve a prized Reggie Jackson baseball he'd stashed ages ago in the garage rafters, planning to give it to his then-unborn grandson (who we now know, after last week's birth event, to be his namesake). But when they arrived, they saw a transformed homestead inhabited by a young, new family, with kids frolicking in the yard the way several generations of Bravermans had done.
"Let's go home," Zeek quietly urged his patient, loving, already grieving wife. Life had moved on, and life goes on, which can be both terribly sad yet wonderfully comforting. At its best—and have no doubt, this was one of those great, lump-in-the-throat moments—Parenthood could often feel like going home: a warm, messy, achingly familiar, emotionally overwhelming experience you couldn't believe more weren't sharing. Parenthood was never a hit, and each successive season began to feel more and more like a miracle, this under-the-radar feel-good/feel-bad weekly tear-jerker.
We've been through it all with this family: romantic and economic highs and lows, health scares— watching Kristina, oldest son Adam's wife, battle breast cancer was especially harrowing—and personality clashes both petty and profound. Who hasn't been there? Parenthood earned praise early on for its depiction of Adam's brilliant son Max's (Max Burkholder) autism, a challenge they and the show faced head-on, never sugar-coating the boy's exasperating eccentricities and never giving up on him. This journey led Adam and Kristina to start a school for special-needs kids, and even there, Max had trouble fitting in. When he found his true soulmate in Aunt Sarah's last and most lasting love interest, the similarly socially awkward photographer Hank (Ray Romano), this most unusual multigenerational male bonding presented a new kind of heartwarming.
What a gift this shortened final season has been, giving us time to prepare to say our goodbyes and for the writers to plan one of the most satisfying final acts since Friday Night Lights (also from executive producer Jason Katims). Much of this last go-round has revolved around Zeek's big but ailing heart, culminating in his recent decision not to undergo another grueling round of surgery but to let life take its course—as long as he gets to walk daughter Sarah (Lauren Graham) down the aisle with Hank. This hastened-by-fate ceremony becomes the centerpiece of a series finale that mixes bitter and sweet, tempering sorrow with joy and tears with humor, in a masterful buildup of life-changing twists that somehow avoids the maudlin at nearly every turn.
Those who like a good weekly cry may be wondering where they'll get their next fix, while advocates of that diminished TV brand known as the quality family drama may have the most reason to mourn Parenthood's passing. It was great while it lasted, and we're lucky that it lasted this long.
Parenthood series finale, Thursday, Jan. 29, 10/9c, NBC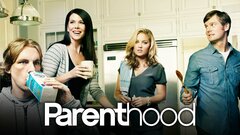 Powered by