'My Kitchen Rules' Star Valerie E. Vasquez Shares Her Winning Recipe
My Kitchen Rules winner Valerie E. Vasquez tells TV Insider that she prefers to entertain by serving heaping pots of meatballs in sauce, or sausage and pasta to her guests, and they can serve themselves. But in the Feb. 16 episode, Vasquez and her husband Andrew Dice Clay were challenged to serve appetizers to a gallery full of art aficionados—and Val knew she had to serve up something extra-scrumptious.
Vasquez put a fresh and healthy twist on meatballs, which won her praise from judges Curtis Stone and Cat Cora, and special guest Leah Rimini. The cooking prowess of Val and Dice earned them a place in the show's season finale. Now, Val's sharing the crowd-pleasing recipe only with TV Insider, saying, "I've been getting messages and comments on it every single day since that episode aired!"
See Also
Vasquez and husband Andrew Dice Clay wiil face off against Lance Bass and his mom Diane in the finale of the competition series.
Lemongrass Chicken Meatballs
Silence and satisfy your critics with this fresh and delicious appetizer by Valerie E. Vasquez:
Ingredients:
– 1 1/2 pounds ground dark chicken
– 1/3 cup panko crumbs (optional)
– 1 1/2 teaspoons salt
– 3/4 teaspoon pepper
– 1 teaspoon grated ginger
– 2 teaspoons lemon zest
– 1 1/2 tablespoons finely chopped lemongrass
– 3 tablespoons finely chopped cilantro
– 3 tablespoons finely chopped shallots
– 1 1/2 finely chopped & deseeded Serrano chili
– 1 1/2 tablespoons soy sauce
– 1 1/2 tablespoons fish sauce
– 1 1/2 teaspoons lemon juice
Ginger Hoisin Vinaigrette:
– 1/2 cup Hoisin sauce
– 4 tablespoons rice vinegar
– 3 tablespoons grapeseed oil
– 2 teaspoons honey
– 1 teaspoon grated ginger
– 2 teaspoons lemon juice
Instructions: Mix meatball ingredients together well (don't over-mix). Form heaping tablespoon-size balls. Brown meatballs in a hot pan for 3-4 minutes, turning the meatballs with tongs to brown them evenly (do not cook through). Transfer to a cookie sheet and bake in the oven at 350 for 5 minutes, or until cooked through. (Val says, "DO NOT OVER COOK; it defeats the whole purpose 😜")
Whisk vinaigrette ingredients, and toss with warm meatballs to coat. Leftover vinaigrette can be refrigerated in a tightly sealed mason jar for up to a week.
If you make Val's winning recipe, be sure to post a picture of your culinary creation on Instagram and tag @ItsValVasquez!
My Kitchen Rules, Thursdays, 9/8c, Fox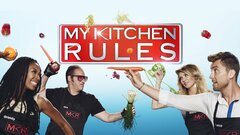 Powered by