Valerie Vasquez Dishes on 'My Kitchen Rules' Finale
In the season finale of My Kitchen Rules, former boy bander Lance Bass and his mom Diane, will face off against Andrew Dice Clay and his wife Valerie E. Vasquez. While Vasquez admits she is "extremely shocked" to make it to the finals of My Kitchen Rules, she isn't surprised by her competition. "From day one it was always Lance and Diane," she reveals. The mother-son duo has consistently wowed judges and the other contestants with good teamwork and great food. "It was actually kind of a compliment in getting to the finale with them. They worked together so well, they were such a great team, and I was like, 'I love them so much I have no problem if I lose to them. If that's the way it's supposed to be it's fine.' I think anybody cooking against Lance and Diane would be nervous."
In the finale, both teams must create a delicious three-course menu to impress not only Curtis Stone, Cat Cora and the other contestants, but also a panel of world-class chefs. "It was already scary cooking for Cat and Curtis, now there are six more professional chefs?!? Oh my gosh!" laughs Vasquez.
See Also
Mr. T, Simon Biles, Nick Viall, Erika Jayne, Rashad Jennings and more will lace up their dancing shoes for 'Dancing With the Stars' Season 24.
"I knew this one had to be a little bit more elegant. And, basically what I do is, I sit down and I just write things out. I am like, 'Okay, what would look good on a plate?' Valerie told TV Insider. "That was something I never used to think about. Now I am having to think what would look good on a plate, what goes together. What can I do for an appetizer that I could tie into the main course and then a dessert? We only had a couple of days to figure it out and I didn't sleep much."
The best part of appearing on My Kitchen Rules Vasquez says has been getting closer to her man. "I have loved watching Dice really try to help me in the kitchen because honesty, I didn't even know if he could chop an onion before we started," she laughs. "We didn't practice once beforehand. We did a couple of interviews where he was like, 'She had me practicing,' and I was like, 'Wait, wait, wait, wait—you didn't practice with me once at home! What are you saying?!? You just came and tried the food!' And he's like, 'Well, that's still practicing.' He didn't practice at all. The first time we cooked together, ever, was the first episode on that show while we were being filmed, and we've been together eight years!"
After the season finale of My Kitchen Rules, the hair and makeup artist reveals that she's got big projects in store, including restarting her fashion line and working on a cookbook. But Vasquez has been so charming on the show, we bet it won't be long before this self-professed "behind-the-scenes girl" is in front of cameras again.
To whet our appetites for the finale, Fox has shared an exclusive clip from the season finale of My Kitchen Rules with us. Check it out below.
My Kitchen Rules Season Finale, Thursday, March 2, 9/8c, Fox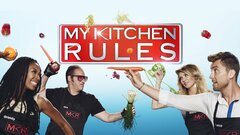 Powered by