Is Gorilla Grodd Bringing the Apocalypse to 'The Flash'?
It's about to get legit bananas in Central City Tuesday when Gorilla Grodd swings from Earth 2 to Barry's world in "Attack on Central City," the conclusion of The Flash's epic two-part Gorilla City story that began with last week's "Attack on Gorilla City."
Having survived their entrapment in Grodd's homeland, where Team Flash was able to oust the gorilla leader Solovar, it's now time for them to face one angry ape on their own turf.
"Grodd is basically not satisfied that the Flash escaped at the end of [last week], so he basically intends on destroying all of Central City by any means necessary," says executive producer Aaron Helbing with a laugh. "And you know, he has telepathic abilities where he can take over anyone at will, so we'll see him take over General McNally, who has access to the nuclear missile transportation site. Yeah…Grodd is definitely planning the apocalypse."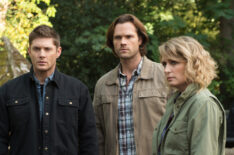 See Also
'Early pickups of these seven series now allow our producers to plan ahead for next season, and gives us a solid base to build on for next season,' said Mark Pedowitz, President, The CW.
And Grodd is not monkeying around. "I would say Grodd brings a legion" with him, continues Helbing of the brewing battle royale. "But if Grodd has his army, the Flash has his own army, which is Kid Flash (Keiynan Lonsdale), Jesse Quick (Violett Beane), Vibe (Carlos Ramon) and Gypsy (Jessica Camacho). And because they're speedsters, I think they're just as formidable as an army of gorillas….you'll see the Flash against Grodd, and you'll see Kid Flash and Jesse Quick against a bunch of gorillas that are pretty big, formidable gorillas—but they're not as massive as Grodd."
And for those keeping track, yes, Helbing did just say that Gypsy will be on the white-hats side, even though we saw her at the end of last week's episode in cahoots with the furious furry ones. Damn that sentient ape's telekinesis! "When you first see Gypsy in the beginning of the episode, she is taking on the team, trying to destroy them, and we'll realize it wasn't Gypsy on her own volition," previews Helbing. "She was under control by Grodd, and that gives Barry the clue that if Grodd is somehow controlling Gypsy, then he has to be here in Central City."
In addition to this primate throwdown and the threat of a nuclear catastrophe, the hour will also include a visit by Earth 19's Accelerated Man (Sean Poague). "It's the closest to comic book of any character that we've done," he says of the alt-world's speedster, although, unfortunately, it's only a "really cool" tease. "For now, it's just an easter egg." Helbing admits. "We don't plan on seeing Accelerated Man anytime soon."
The Flash, Tuesdays, 8/7c, The CW
Powered by