Can the 'The Flash' Save Iris? (VIDEO)
For all of the running around, Wally training and fun H.R. museum stuff, The Flash fans know the emotional center of this season is Barry's (Grant Gustin) race to stop his future vision of Savitar killing Iris (Candice Patton) from coming true. And it has led to some seriously lovely scenes for the couple.
Faced with what is essentially a terminal diagnosis, Patton has been a standout as Iris bravely attempts to deal with the situation by protecting her father (Jesse L. Martin) from the grim secret and letting her emotions out with Barry when it gets too heavy. From the looks of the exclusive clip below, the increased possibility of her demise is definitely starting to weigh on both of them.
"What if we can't stop all of this," she asks B-Allen after another Central City meta-event fails to tweak their advanced timeline enough. "I'm scared, Barry!"
"I'm doing everything in my power to make sure that future never happens," he says, eyes all earnest and assured. But can Barry deliver on that promise? Oh, he better, or an angry fandom is gonna have Scarlet Speedster running for his own damn life.
The Flash, Tuesdays, 8/7c, The CW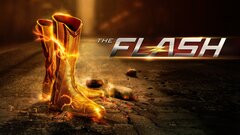 Powered by