'24: Legacy': Can the Enigmatic Tony Almeida Be Trusted?
Tony Almeida (Carlos Bernard) had a roller-coaster storyline on the original 24—from Counter Terrorist Unit analyst to grief-stricken ally of terrorists—and he's still an enigma when he returns for a multi-episode arc beginning with Monday's episode of Fox's 24: Legacy. Fans last saw Tony in a DVD bonus feature for 24: Live Another Day showing him in solitary confinement and planning a prison break; now he's pulled into the Legacy world by former CTU director Rebecca (Miranda Otto) with an off-book assignment. "He's a mercenary; he's a gun for hire," Bernard explains. "There are remnants of that guy [he once was]."
We spoke with Bernard about rejoining the 24 universe, Tony's mindset, and more.
At what point were you approached about joining 24: Legacy?
You know, I knew for a while. We had shot a 10 minute short that was on the DVD for Live Another Day. And they'd written it as a DVD extra of him being broken out. Back then, the intent was if there was another series with Kiefer [Sutherland (Jack)], they were going to bring me into play. And they wanted to break me out of prison so they could use the character right away. The idea initially was that.
Then when they wrote a spinoff, they always had the discussion of bringing my character in. This was a discussion for a year, year and a half? [Executive producer] Manny [Coto]and I would run into each other, and he'd keep me updated on what it was looking like and what the story was. And then as it got closer and closer, it was really a matter of the schedule working out because I had a couple of directing jobs I was working on.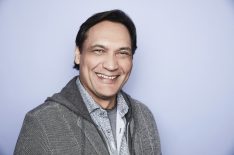 See Also
The legendary actor gives props to costar Corey Hawkins tell TV Insider, 'He's got chops.'
What kind of a man is Tony when we find him in Legacy?
Well, I think one of the great things about acting on the original 24 and then carrying over to this show is you amass this life experience and tragedy that happens in these guys' lives. Almeida started out in the very first year and has had a story arc over the years that has taken him from a wide-eyed young agent in the Counter Terrorism Unit who was put through the meat grinder in a way. I think he's a damaged guy. He's been through it. To the point he was put in solitary confinement in prison, which is a form of hell; stripped of literally everything he had and knew.
I think what's interesting about his appearance in the series is you get a little bit of the story of what happened between the time we saw him in "Solitary" and now; what went on with him, why he's walking the streets. How he got there and what he's been up to. I think essentially, he's a damaged guy. He lost his life.
RELATED: 24: Legacy: New Heroes, New Villains, Same Heart-Stopping Action
When we meet him, he's reached this point where he's trying to take care of himself. I think part of what got Tony in trouble was his emotions. I think the difference between him and Jack was Jack didn't let his emotions get in the way of his work. I think Almeida is different because his emotions got in the way. [Laughs] His emotions and his feelings definitely influenced him in a way that got him in trouble. They caused him to do some horrific things in his quest for vengeance.
In [Legacy,] I think you don't know where he's at. He's a mercenary; he's a gun for hire.There are remnants of that guy [he once was]. That's where he starts off.
What was it like for you playing Tony again after all of these years?
It's a weird thing. I don't know how to describe it, except to say that I thought about it beforehand because it had been a while. It was a few years ago we shot the DVD [feature], so there was a little bit of that. It was very similar to that experience in that it just comes out of you. I don't know how to describe it without sounding like an artsy fartsy actor talking about acting. And I hate hearing actors talk about playing roles…all I can say is my character is in there somewhere and it just comes out. After years of playing him, it just comes out. There's no struggling to get it.
What has been your take on Legacy?
I love it. They should have done it before. I'm a big fan of Corey [Hawkins (Eric)] as an actor, but even more so as a person. I had a great time working with him. You feel the revitalization.
RELATED: 24: Legacy Star on His Character's Fate: 'It Felt Like an Honor'
The cast was open about their love of the original. Did they fan out when they met you, or did they try and play it cool?
[Laughs] I would say it went both ways. Corey literally came knocking on my trailer the first day we were there and just admitted it. [Laughs] He came right out and gushed. He's such a sweetheart, he has such enthusiasm. It was really wonderful.
I guess everyone else…I guess they were fans [of the show]? They were all very welcoming. Corey sticks out in my mind because it was so overt.
24: Legacy, Monday, March 13, 8/7c, Fox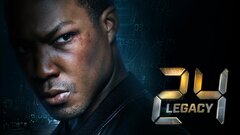 Powered by