Fox Has Been Trying to Reboot and Revive '24' for Years
Forget saving the world: Keeping the 24 franchise alive seems to be Jack Bauer's toughest mission yet. Fox's recent decision to scrap two spinoff ideas is yet another setback in the network's efforts to double-down on the success of the Emmy-winning drama.
In case you missed it, the original series starred Kiefer Sutherland as Counter Terrorism Unit agent Jack Bauer, who thwarted terrorist plots at great personal and professional cost as each season unfolded in real-time over 24 hours — and thus 24 episodes — per season. (Sleep, hunger, bathroom breaks, and Los Angeles traffic be damned.) Throughout its eight-season original run — plus a TV movie midway through — the drama earned both commendations for its groundbreaking format and thrilling storylines and criticism for its depictions of torture and negative portrayals of Muslims.
See Also
Could these characters live to see another day in a possible Jack Bauer-centric prequel series?
Following the conclusion of the show in 2010, producer Brian Grazer worked on a big-screen 24 movie for "two years," as he told Deadline in 2017. "We couldn't find enough money to make it," he explained at the time. "We couldn't find the right location, we couldn't find the right story, and it was always too expensive."
In 2013, however, news broke that Fox was developing a limited revival of the show, with both Sutherland and longtime showrunner Howard Gordon attached. The result, 24: Live Another Day, aired the following year, met with solid reviews and ratings. But the show was always billed as an "event series" that would only last 12 episodes, and so the creatives behind 24 had to go back to the drawing board.
The next iteration of the concept, 24: Legacy, didn't fare as well. Announced in 2016, the spinoff followed an all-new cast led by Walking Dead vet Corey Hawkins as Eric Carter, an ex-Army Ranger who teams up with the CTU to foil terror cells in the United States. The 12-episode first (and only) season debuted after Super Bowl LI in 2017, scoring the franchise's best-ever ratings following the big game. But the series earned mixed reviews, and its ratings fell precipitously in subsequent weeks. Fox canceled the series that summer, citing Hawkins' commitment to a Broadway play, but left the door open for more 24 in the future.
"We are really exploring what the future, the next version of 24 might be, maybe in more anthological storytelling," Dana Walden, then co-chairman/CEO of Fox Television Group, told reporters at the 2017 summer TCA press tour — adding that Grazer, Gordon, and 24 co-creator Joel Surnow had "a very exciting idea" she thought was "very compelling."
That "very exciting" idea might have been the real-time female-led legal thriller from Gordon, Grazer, and The Killing producer Jeremy Donner that Deadline trumpeted that November. The potential new series, which received a script commitment, would focus on a "female prosecutor who uncovers a legal conspiracy and has to work against the clock to save a death row inmate facing imminent execution whom she had helped prosecute but may be innocent," according to the site.
Then, in 2018, then-Fox co-chairman/CEO Gary Newman said a few new ideas were afloat. "I think terrorism is uniquely suited for 24 because the timeliness and urgency is built in," he told Deadline. "You could be in the medical field or the legal field where a clock is ticking and something has to happen. But I wouldn't bet against terrorism."
Two months later, Walden revealed Gordon, Surnow, and original 24 co-creator Bob Cochran were working on a different idea, a prequel series tracking the origin of Jack Bauer.
By February 2019, however, neither the legal thriller nor the prequel series had made it to the pilot stage. "The power of these franchises is not to be toyed with, and 24 was an iconic moment in television, and when and if we bring it back, it will be because the creators and writers feel like they have the right story to tell, they can honor the franchise and the studio and the network feel the same way," Fox Entertainment CEO Charlie Collier told Deadline. "I'd be very open to working with Howard and everyone else, but nothing new to report."
That August, the site reported that Fox was still eying two ideas, including a different version of the prequel idea. "There is nothing formal yet; we are still having discussions with 20th Century Fox TV and the producers on a way to come up with some other incarnation," Fox Entertainment President Michael Thorn said at the time. "There is a really strong desire to crack it, we are still talking about it."
See Also
After nine seasons, we break down the top drama.
But earlier this month, Thorn told TVLine that those projects had been abandoned. "We had been circling two ideas for 24 spinoffs and those ideas are not moving forward," he said. "But we're constantly looking at other opportunities to keep the title resonant, for us and the fans."
Long story short, the future of the 24 franchise seems mired in development hell. Clearly, the 24 masterminds and the brass at Fox Broadcasting Company, 20th Century Fox Television, and Imagine TV want to land on an idea that does justice to the original series — especially now that Legacy has tarnished its legacy, so to speak. Unlike Jack Bauer, though, they've got time on their side: For now, at least, viewers' fervor for reboots and revivals shows no signs of stopping.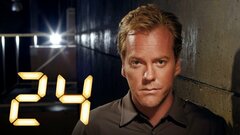 24
where to stream
Powered by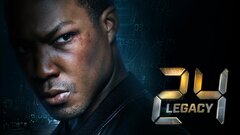 Powered by