Allison Tolman Says Archer's Edie 'Has Definitely Earned Her Reputation'
Allison Tolman is on a roll, having scored Emmy and Golden Globe nominations for her work as Detective Molly Solverson on Fargo. Tonight, the actress enters new territory: playing Pam Poovey's notoriously evil sister, Edie, in an episode of Archer. The night before Edie's wedding, Pam brings Archer to the rehearsal dinner — but first they all have to take out a deranged cyborg. We checked in with Tolman to learn about the mysterious Edie, her previous voice acting experience, and more.
So what's the deal with Edie?
Tolman: Oh, she's terrible. She's really awful. My boyfriend and I are Archer fans – he introduced me. So when we found out that I was going to do the episode and I was going to be playing Edie, we started speculating about what kind of person she was going to be, because they talk about how terrible she is. And I said, 'I think it'd be funny if she's here and she's this delightful human being, and it's like, well, why does Pam hate her so much?'' But then I got the script and told my boyfriend, 'That is not the case. She is awful.' She has definitely earned her reputation. I just spent a day in the booth yelling and grunting and just being a nasty person.
Do you know why Edie's such a terrible person? Is there a reason behind it?
Tolman: I don't think we know that. Maybe we'll explore that and go see [Pam & Edie's] childhood home and figure out why they are the way they are. She's just a bully.
And she's getting married. Is she a bridezilla too?
Tolman: Oh yeah. To top it all off: Imagine the worst person in the world also, with the stress of her wedding.
That sounds like a fun role to do, though!
Tolman: It was so fun. And it was one of the first things I'd done since Fargo. She's so different from Molly, who I spent several months with, and I'd spent the last few months just doing sitcom and comedy roles. [Tolman recently had a two-episode arc on The Mindy Project, and will be appearing in upcoming episodes of Comedy Bang! Bang! and Review]. But Archer kicked all that off. [Voiceover work] is so freeing. I still have very much an actor brain where I'm like, 'Does this look weird? Is this coming off right on camera?' But you don't have to worry about that when it's just your voice, so I just kind of went for it.
So this wasn't your first voiceover?
Tolman: I've done some bit parts in Full Metal Alchemist, and other anime shows. Like, so-and-so's mother who has like two lines in an episode. But I will say, doing the anime thing, you have to match, they call them flaps, you have to match your mouth to what's already animated, which can be quite difficult. But Archer was backwards and I didn't have to worry about that. I just had to act, and then they animated to my voice, which was also very freeing because matching the flaps can be pretty challenging.
I also did a lot of what they call walla, where you talk incessantly for, like, three minutes in a booth and they put it in a restaurant scene to sound like a crowd. It's hilarious because it's you, and three other people, and they cram you in a booth like, 'Alright, go!' And there's nothing more inane. You suddenly lose the ability to actually have a conversation as a human.
Who is voicing the character that Edie is marrying?
Tolman: We don't meet him. The wedding is slightly waylaid by the other events in the show, so we don't make it that far in this episode. There's intrigue and fights and spy-things happening.
And Edie screaming.
Tolman: And Edie screaming and hollering [Laughs].
We've also heard that this episode has a few Fargo mentions.
Tolman: They do have some Fargo nods in it. In addition to my voice, they have the theme music.
Executive producer Matt Thompson has told this story to E!, that you convinced them to let you play Edie while you guys were at an FX party drinking. Can you tell your side of this story?
Tolman: Yes. I will say, everybody had been drinking. It was after the Critic's Choice Television Awards, actually.
Oh, when you won!
Tolman: Yeah! I had won, so I was like, 'Whoo! Yeah!' And I met the guys … I said, 'My boyfriend is really vying for there to be a crossover episode, we're big fans.' And they're like, 'Yeah!' And I was like, 'Yeah!' You know, it was a party atmosphere. And that was the end of the conversation. That could have been left where it was, but we were in the same hotel. The next morning, everybody was kind of hungover, and they were checking out at the same time as me, so I was like, 'Oh hello again!' and had a more sober conversation with them. As we were parting ways, they were like, 'Hey, we'll look into getting you an episode.' And I was like, 'Yeah, hey, that sounds great!' And then I got in the car and immediately called my manager and was like, 'You guys have to get on top of this. I don't know how serious they were. We have to make them serious.' [Laughs] And then a few weeks later they called.
Do you think they will bring Edie back again in future episodes?
Tolman: I hope they will. She can't stick around too much because she's awful, and she makes Pam's life terrible, but whenever they need a villain for an episode, I feel like that would be a good person to pop in and out.
Archer, Thursdays, 10/9c, FX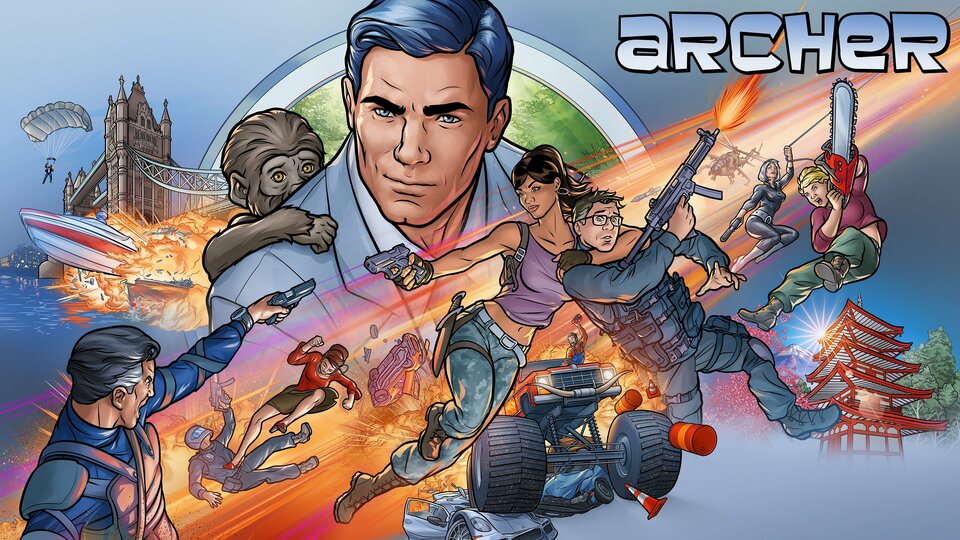 Archer
where to stream
Powered by