Eric McCormack's 'Travelers' Gets Second Season on Netflix
When TV Insider recently spoke to Eric McCormack, he talked about his excitement over his new series Travelers—a joint venture between Netflix and Canadian broadcaster Showcase. "I'm really excited about this one," he revealed. "I spent the year shooting this one and I'm a producer on it. It's sci-fi, but it's not time machines and laser guns, it takes place now. It feels more like an espionage show."
And now, the Emmy-winning actor has even more to be excited about: On Feb. 8, Netflix and Showcase announced the renewal of the time-traveling thriller for a second season.
In the series, from Stargate-SG1 co-creator Brad Wright, the last surviving humans discover the means of sending consciousness back through time, into people in the 21st century. These "travelers" assume the lives of seemingly random people while striving to save humanity from a terrible future. McCormack plays the leader of one such team, and assumes the life of FBI Special Agent Grant MacLaren.
See Also
'Travelers' returns; 'Bill Nye Saves the World' starting in April; 'Grace and Frankie' Season 3; and more!
McClaren's team also includes Marcy (Mackenzie Porter), a young, intellectually disabled woman in the care of her social worker, David (Patrick Gilmore); Trevor (Jared Paul Abrahamson), a high school quarterback; Carly (Nesta Marlee Cooper), a single mom in an abusive relationship; and Philip (Reilly Dolman), a heroin-addicted college student. Each arrives in his new body armed only with a knowledge of history and an archive of social media profiles.
McCormack explains, "We are from the future, but we are basically infiltrating the present and living the lives of people whose bodies we've basically taken over. It's a very dark and moody and very modern show. I think it's fantastic. I'm really excited for people to see it and particularly for people to see it on Netflix because they can watch it all at once."
Production on Season 2 is expected to begin in March, with a Canadian broadcast premiere expected fall 2017, followed by a worldwide Netflix premiere.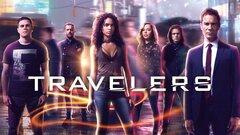 Powered by