'Long Lost Family': Watch This Man Read a Letter From the Mother He's Never Met
It's time for another season of family members finding each other on TLC's Long Lost Family. The reality series takes viewers inside situations where people are trying to clear up family mysteries and give answer to questions about their adopted lives.
Long Lost Family hosts Chris Jacobs and Lisa Joyner, who are both adopted and have spent time tracking their biological family members, meet with people and help them on their quest to fill in the gaps in their own personal histories.
No shocker that the news and reunions are often very emotional, as is the case in this exclusive clip from this week's episode featuring T.J., a man who reads a letter from his biological mother and finds out much about a family he didn't realize existed. Get the tissues ready when you watch.
Long Lost Family, Sundays, 9/8c, TLC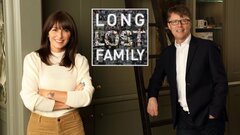 Powered by