'Lethal Weapon': A Stalker Targets…Scene Stealer Jordana Brewster's Dr. Cahill (VIDEO)
SCENE STEALER: Jordana Brewster
SHE PLAYS: Dr. Maureen Cahill, the understanding but tough psychologist who regularly tries to keep emotionally tortured cop Martin Riggs (Clayne Crawford, above with Brewster) off the ledge on Fox's Lethal Weapon. The tables are turned, however, in the this week's episode when the good (but private) doctor gets a stalker and is suddenly the one to see not only her past but her love life exposed. "I think viewers will have a deeper understanding of where Cahill is coming from and understand why she chooses to have her guard up."
WHERE YOU'VE SEEN HER: The Fast and Furious films propelled her to stardom (she'll be back as Mia in the eighth film later this year) but on TV she's been seen in Secrets and Lies and The People v. O.J. Simpson. "I'm so used to playing the ingénue and playing the supportive, doting girlfriend or wife," she says, adding she's glad to having transitioned to other roles, even projects with high testosterone levels. "I don't want to say one of the guys but in a way I've had to be one of the guys! I just had to be tough and also be more of a woman."
See Also
Riggs and Murtaugh investigate the falling death of a young woman in the holiday episode.
WHY WE LOVE HER: Be it the high-octane world of car chases or a grounded therapy session between Cahill and Riggs, Brewster can hold her own, which is a trait that Lethal Weapon creator Matt Miller needed in Cahill. "Jordana is able to convey both the strength as well as empathy," he says, having also worked with the actress on Chuck. "Cahill is playing a long chess match with Riggs so it's important she never show frustration or impatience."
LOVE IN THE AIR? Speaking of Riggs, the patient/doctor relationship has Cahill bending the rules when it comes to the often unhinged cop. What gives? "She is by the book and I think she would've reported a lot of the stuff if she didn't care for him," Brewster explains. "There are certain things in [Wednesday's episode] where that plays out and it plays out in a really interesting way. I think viewers will see her relationship with Riggs become a little more complicated."
Here's an exclusive clip at Wednesday's episode where Riggs and Murtaugh (Damon Wayans) realize who is the target of a stalker's obsession:
Lethal Weapon, Wednesdays, 8/7c, Fox.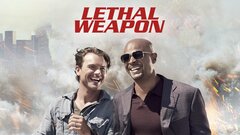 Powered by