Matthew Rhys on Unlikable 'Girls' Role: 'It's Unlike Anything I've Done Before'
Matthew Rhys would like to make one thing clear: Though it's a plum role, the character he's portraying this Sunday on Girls was not created with him in mind. "I'm incredibly happy to say that Lena Dunham wasn't thinking of me when she wrote the script—thank God!" says the Welsh-born star of FX's spy drama The Americans, returning for Season 5 in March.
On Girls, Rhys guest stars as Chuck Palmer, a successful novelist who unexpectedly summons Hannah (Dunham) to his posh apartment after she publishes a scathing essay about him online. (The touchy topic? His reputation for being sexually predatory with college coeds.) "If you have an actor as inherently likable as Matthew, it's possible to push him very far in the other direction and still keep the audience with him," says director Richard Shepard. "This is going to disturb people." Rhys gives us the full debriefing.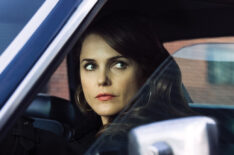 See Also
Starting in March, the legendary battle between Joan Crawford and Bette Davis is back on!
Following the birth of your son Sam last spring (mom is Americans costar Keri Russell), you planned to take some time off. How'd you end up with this gig?
The opportunity was far too good to pass up. This episode is like a one-act play that evolves between two people in real time—it's unlike anything I've done before.
Chuck's story isn't nearly as straight-forward as it first appears.
The framework—the older man, the younger woman, the abuse of power—is one we're all familiar with, but within that are all of these slippery moments where Chuck kind of turns it on its head.
There is also a plot twist worthy of M. Night Shyamalan. What did you make of it?
It's disruptive. I mean, I gasped when I read it—I didn't see it coming at all! I experienced a number of emotions, including slight shame and embarrassment. It's like, "Oh, no­—men!"
See Also
The writer-director-star of HBO's 'Girls' basically killed Maria Shriver when she uttered one very familiar word as Matt Lauer looked on, laughing.
Pardon the cliché, but your career is on fire. Are you enjoying the ride?
True to my Welsh heritage, I feel like it's all downhill from here. I should be reveling, but we Celts are much better at nostalgia, reflection and melancholy. I'll enjoy it much more when I'm looking back on these as my glory days!
Girls, Sunday, Feb. 26, 10/9c, HBO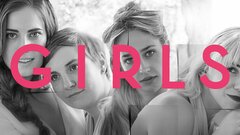 Girls
where to stream
Powered by