Is HBO's 'Crashing' the 'Breaking Bad' of Comedy?
Pete Holmes claims his new HBO series is to the world of stand-up what Breaking Bad was to selling meth. "I'm not going to become some comedy Heisenberg," the 37-year-old comedian says. "I think it's so interesting to watch someone so sweet learn what it's like to go on the road and all the different things you have to do along the way."
Holmes's character, Pete—the ultimate suburban nice guy—begins his odyssey into the world of open-mic nights, two-drink minimums and flop sweat after catching his wife (Orange Is the New Black's Lauren Lapkus) in bed with another man. Adrift in New York's brutal comedy scene, Pete finds himself crashing on sofas owned by the likes of T.J. Miller (Silicon Valley), Sarah Silverman and Artie Lange while piecing his life back together and trying to make a name for himself.
See Also
We hope your DVR and mobile devices have enough memory, because there will be plenty of shows to watch this year.
If you're already a Holmes fan, this may sound familiar. The show, executive produced by Judd Apatow, is semiautobiographical. Holmes did turn to friends in the business for support and solace during his real-life divorce. "Most other people would think comedians are screwups, but they really did catch me and help me through a very difficult time," he says. "Turning that up a few notches for the show makes it a more interesting premise."
Much of Crashing's laughs spring from just how funny it is to watch someone whiff on stage. According to Apatow, they didn't change a lot of Holmes's actual stand-up routines for the scenes in which his character bombs. "You can do the same material, only with less confidence, and it will just die," he explains.
"We wanted to do a show about what it's like to go on at 2am for 10 people," Holmes adds. "Everybody eats s–t. You just eat s–t, and you do that for 10 years. And then maybe you get to keep doing it if you don't quit."
Crashing, Series Premiere, Sunday, Feb. 19, 10:30/9:30c, HBO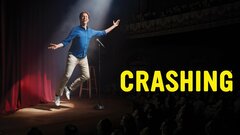 Powered by