It's Upscares, Downscares on 'Paranormal Lockdown' (VIDEO)
Can we all agree that creaky attics are never happy places?
Yet on Friday's Paranormal Lockdown, supernatural investigators Nick Groff and Katrina Weidman are heading into the least inviting loft area on the East Coast while they spend 72 hours sequestered inside New Jersey's White Hill Mansion. The property—which has the triple-whammy of weirdness that comes from being a body-strewn Civil War site, a brothel and a speakeasy over the years—is far from what we would consider a hot spot, but according to some of the evidence Groff and Weidman capture, it's definitely a hot bed of haunted activity.
Here's an exclusive preview of what is awaiting Weidman once she goes it alone in the location's rickety upstairs room.
Paranormal Lockdown, Fridays, 9/8c, TLC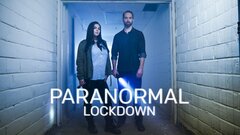 Powered by