'Paranormal Lockdown' Spends the Holidays in Jail! (VIDEO)
Scrooge ain't the only one seeing British apparitions this holiday weekend. Paranormal Lockdown's Nick Groff and Katrina Weidman are spotting some shifty shadows, as well, when they head to scary ol' Londontown for an investigation inside Shrewsbury Prison.
The now-closed facility earned its notoriety not just from being one of the most over-crowded jails in England and Wales before being shuttered in 2013, but also for the myriad reports of supernatural events within the allegedly haunted walls. Given that the place housed countless killers and hosted a series of suicides and executions by hanging, it's no wonder Shrewsbury is considered one of the UK's most haunted addresses.
In this clip from the team's 72 hours inside, Katrina has what she thinks is a run-in with one of the former prisoners who hasn't yet left the premises…or this mortal coil.
Paranormal Lockdown, Fridays, 9/8c, TLC.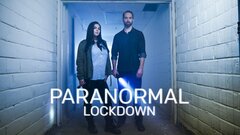 Powered by