'Timeless': Flynn Teams Up With Gunslinger Jesse James (VIDEO)
As if history's Jesse James didn't do enough damage with his original gang! On the Monday, Jan. 23, episode of NBC's hit time-travel drama Timeless, entitled "The Murder of Jesse James," implacable terrorist Garcia Flynn (Goran Višnjić) time-jumps to the Old West. There, he enlists the killer outlaw (played by guest star Daniel Lissing, pictured) to help him find someone he needs for his nefarious plan to ruin America. When NSA's trio, Lucy (Abigail Spencer), Wyatt (Matt Lanter) and Rufus (Malcolm Barrett), arrive, they'll be in hot pursuit of the bloody trail Flynn and the notorious gunslinger are spreading across the West, and they'll get some help from a legendary figure of their own.
Here's an exclusive clip from the episode of Flynn and Jesse James' fateful meeting. Flynn at first tries to appeal to whatever sense of patriotism James might have, before moving on to a more practical way of getting a money-hungry outlaw on board with his plan.
Timeless, Mondays, 10/9c, NBC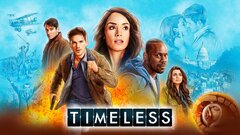 Powered by