'Timeless's Malcolm Barrett on Double-Takes and Why His Character is Named Rufus
Get to know Timeless' scene stealer, Malcolm Barrett:
Who He Plays
Rufus Carlin, a mild-mannered government engineer thrust into a hero's role when he's ordered to pilot a time machine to help stop bad guy Garcia Flynn (Goran Visnjic), who keeps visiting the past to change America's history. Rufus has also been forced by secret government operatives to spy on his fellow travelers, historian Lucy (Abigail Spencer) and soldier Wyatt (Matt Lanter). In Monday's episode, the group meets up with Bonnie and Clyde in the 1930s.
RELATED: Timeless: Shawn Ryan and Eric Kripke Team for Time-Travel Adventure
Where You've Seen Him
Mostly in sitcoms and sketch comedies (Better Off Ted, Key & Peele). But Barrett is also an experienced stage actor and was devastating in Southland as a crime witness who doesn't realize he's been mortally wounded. "It was really good to be able to exercise those chops," Barrett says, "but in a lot of ways, comedy is harder than drama. With Timeless, I don't know how much comedy was originally on the page, but one night I was cracking jokes with the producers and [executive producer] Eric Kripke said, 'Why don't you improvise more?'"
Why We Love Him
Barrett is a master of the double take as Rufus reluctantly learns to fight, while still always looking cool. "Malcolm brings his own swagger to every era's garb," costume designer Mari-An Ceo says. Rufus also experiences the American past that rarely welcomed a man of color. It was Rufus's line in the pilot—"There is literally no place in American history that would be awesome for me"—that won Barrett over. "It's one of those things that all people of color understand," he says.
Whats's in a Name?
"I said to the producers, 'A black man hasn't been named Rufus since the antebellum era!' Then I realized it was a reference to Bill & Ted's Excellent Adventure, where George Carlin played Rufus. So I was like, 'I'll keep it.' Kripke said I was the first one to get that connection."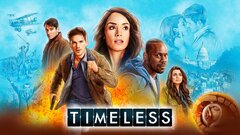 Powered by