Roush Review: A Tamed 'Training Day'; Workplace Comedy in 'Superior Donuts,' 'Powerless'
Let's start with the bad news: CBS has put training wheels on Training Day, softening the premise of the brutal 2001 movie that won Denzel Washington an Oscar for playing against heroic type as a murderously corrupt cop. That's a tough act to follow, and perhaps an impossible one for a broadcast network series to sustain. Although, you'd think a show like FX's groundbreaking The Shield might have showed the way.
And yet, given CBS's recent track record with remakes—last season's Rush Hour being a notably awful flop—even a defanged Day has more edge and bite than the network's typical formula crime procedural. Folksy swagger comes naturally to Bill Paxton, who's a good fit as the morally compromised super-detective Frank Rourke, leader of an elite unit that operates outside the rules. Though Rourke lacks the ferocious menace of Washington's movie antihero, his outrageous cowboy tactics so annoy sketchy LAPD Deputy Chief Joy Lockhart (Without a Trace's Marianne Jean-Baptiste) that she assigns squeaky-clean hero cop Kyle Craig (a bland Justin Cornwell) to ride along as his trainee—and her spy.
RELATED: Training Day: How the CBS Series and the 2001 Film Are Tied Together
Turns out the new partners share an obsession with the mysterious death of Kyle's policeman father years earlier, which tempers the newbie's revulsion for Rourke's reckless methods and cynical attitude, expressed in pithy quips: "Police work's like sex, Kyle. It's a lot more effective when it isn't pretty." Truth is, Training Day could stand being a little, or even a lot, uglier.
Training Day, Series premiere, Thursday, Feb. 2, 10/9c, CBS
Back to Work: CBS's other adaptation du jour is of a Broadway play, Superior Donuts, by Tracy Letts, a Pulitzer Prize-winning playwright (August: Osage County) and T0ny-winning actor (Who's Afraid of Virginia Woolf; also familiar from Homeland). The TV version is a likeable, though not terribly memorable, workplace comedy set in a traditional Chicago donut shop that has been around for 47 years. Which is about as fresh as the show often feels. More Alice than Cheers in tone and attitude, the Superior Donuts setting is the kind of place where you might know everybody's name, but darned if you can remember them.
The best reason to watch is for the clash of comic styles of its two leads: beloved TV veteran Judd Hirsch (Taxi) as curmudgeonly proprietor Arthur, who begrudgingly hires live-wire Franco (stand-up comedian Jermaine Fowler) to bring the shop up to speed in a gentrifying urban neighborhood. Fowler's motormouth antics meet their match in Hirsch's masterly slow burn, and their instant chemistry is a pleasure to behold even if the gags aimed at pretentious hipster millennials, cronut fads and encroaching chains like Starbucks carry a distinctively musty whiff.
RELATED: Superior Donuts: CBS Sitcom Serves Timely Topics Alongside Tasty Pastries
There's a palpable affection between the perpetually upbeat Franco and the stubbornly set-in-his-ways Arthur, which comes through especially well in a future episode when the old man buys a gun to protect himself during a local burglary crime wave. (There are plentiful jokes about the embattled Chicago police department, represented here by Katie Sagal as a tough female cop and Darien Sills-Evans as her bumbling rookie sidekick.) "I've seen a lot of stuff go down," Arthur says in defense of brandishing a weapon. "Like what—a souffle?" cracks Franco. Amid a debate over gun safety, what comes through is Franco's desire to look after his boss without wounding his pride or robbing him of his independence.
The regular customers—Anna Baryshnikov as a perky grad student, David Koechner as a loudmouth nicknamed "Tush," and Maz Jobrani as the officious neighboring businessman who covets Arthur's property—are thinly drawn, rarely amusing and a primary reason that the glaze on Arthur's donuts are no match for the one on our eyes before an episode is over. Even so, when it moves to Mondays next week after this week's Thursday preview, it will by default be the network's best comedy in that misbegotten lineup (Kevin Can Wait, Man With a Plan, 2 Broke Girls).
Superior Donuts, Series premiere, Thursday, Feb. 2, 8:30/7:30c, CBS (regular time period, Mondays at 9/8c)
Powerless Indeed: And for all its limitations, Donuts is tastier and less disappointing than NBC's Powerless, which squanders a great concept—minions working in the shadow of superheroes, cleaning up their messes after clashes in the skies above—with stock characters and uninspired workplace situations. Vanessa Hudgens is perfectly perky as idealistic Emily Locke, newly arrived in Charm City from a "fly-over state" to work as Director of R&D at Wayne (yes, that Wayne) Security. Her boss is the legendary Bruce's less than stalwart cousin, Van (Firefly's Alan Tudyk), an insecure boob who's eager to take credit for any bright idea Emily may have to make jaded customers feel safe in a world of mayhem. His dream: to be transferred to Gotham—but has he watched Gotham?
It's good to have Community's Danny Pudi back on NBC as Teddy, the team's chief design officer and self-described disrupter, but even he doesn't have a lot to work with in the underpowered pilot episode, the only one NBC made available for preview. Maybe it will find its footing in weeks to come, but once Powerless establishes its universe in which catastrophic calamity is just another annoyance on an everyday commute, there's little about the show that you'd call super.
Powerless, Series premiere, Thursday, Feb. 2, 8:30/7:30c, NBC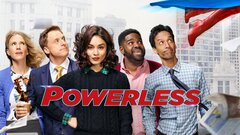 Powered by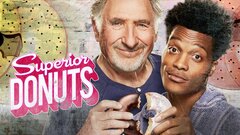 Powered by