Shameless: Who's Facing 'Potential Destruction' in Season 5
Winter Preview | Shameless, Sundays, 9/8c, Showtime
He'll take booze over family any day! Shameless returns for its fifth season with incorrigible drunk Frank Gallagher (William H. Macy) secretly making his own home brew, despite recently undergoing a liver transplant. His kids also continue their ride on the razor's edge. Former jailbird Fiona (Emmy Rossum) will find herself juggling four guys: Sean (Dermot Mulroney), her boss at the diner and a fellow recovering addict; rock musicians Gus (Steve Kazee) and Davis (Axle Whitehead); and her jerky ex-lover Jimmy (Justin Chatwin), who isn't dead after all.
"Each is a potential partnership and each brings potential destruction," says executive producer Nancy Pimental. "Fiona is torn between her desire for bad boys and her gut instinct that she needs to try something different."
Bipolar teen Ian (Cameron Monaghan) refuses to get medical treatment, and his erratic behavior and escalating promiscuity will jeopardize his romance with gangster Mickey (Noel Fisher). But this may end it altogether: Ian steals a car, kidnaps Mickey's child, and hits the road.
Eldest son Lip (Jeremy Allen White) returns home on a break from college and has trouble adjusting to his old street-punk life on Chicago's South Side. "Developers are starting to gentrify the neighborhood, which the locals don't want," Pimental says. "They will retaliate by shooting things up. If Lip gets involved, he has much to lose." Lip will also tryst with one of his professors (Rizzoli & Isles' Sasha Alexander).
And what the hell is wrong with Sammi (Emily Bergl)? Frank's eldest daughter, who was introduced just last season, is having such a tough time getting Dad's attention that she resorts to unsavory tactics–like having sex right in front of him. "She can't accept the fact that he will never be a real dad, something the rest of the Gallagher kids accepted years ago," says Pimental. "Sammi is a grown woman and a mother, but the wounded child inside of her is spinning out of control–and it will only get crazier."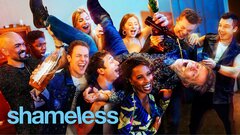 Powered by