Secrets & Lies: Why Ryan Phillippe Calls Playing an Accused Murderer 'One of the Most Difficult Jobs I've Ever Done'
If you're wondering what's in store on Secrets and Lies–ABC's upcoming murder mystery–look no further than the title, says star Ryan Phillippe: "It's going to deliver tons of both!" The 10-episode series features Phillippe–perhaps best known for his film work (Cruel Intentions, The Lincoln Lawyer)–as Ben Crawford, a blue-collar North Carolina family man who becomes a murder suspect after discovering the body of a neighbor's young son in the woods. In an attempt to prove his innocence–which, by the way, is questionable–Ben will unearth a graveyard's worth of skeletons from both his seemingly idyllic suburban community and his own less-than-happy home. Here, Phillippe shows us his dark side.
First question: Is Ben guilty or what? Ha! That's a perfect example of the kind of question I can't answer. But let's put it this way: He's guilty of things.
Why is the detective on the case, Andrea Cornell, played by Juliette Lewis, so convinced he's the guy? For starters, there's the circumstantial nature of his finding the body. But as the season goes on, we'll get more of a window into why she's so focused on him. She's relentless in her pursuit of justice–she's turning the screws because she wants to see him crack.
All of the events unfold purely from Ben's perspective–what will that be like? Intense. It ends up creating this kind of claustrophobic energy, and there's bombshell after bombshell. It also lets you imagine what you might do if you were accused–because, theoretically, this could happen to anyone.
How will the pressure–from the media, his wife, the neighbors–pile up on Ben? He's getting it from every angle until he's at the end of his rope. This is one of the most difficult jobs I've ever done, because I was playing a guy whose life is falling apart. He's shamed, abandoned, losing everything–it's emotionally exhausting staying in that space for 12 hours a day. It's not like when I did MacGruber!
You were on the final season of Damages. Did that whet your appetite for television work? At this stage, I'm open to lots of things. This was an opportunity to explore television more but without having to do a seven-year contract. If the show continues after this season, Juliette would remain with it but there would be a new story. I was also attracted to it because I was terrified by it. When I read the script, it made me feel nauseous. I like things that twist you up a little bit.
Premieres Sunday, March 1, 9/8c, ABC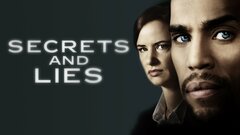 Powered by