'Ghosts' Star Rose McIver Reflects on Sam's Journey & Shares Hopes for Season 3
When it comes to CBS' Ghosts, one character's at the center of it all, the living Samantha (Rose McIver), who can see and hear the spirits residing in Woodstone, the estate she and her husband Jay (Utkarsh Ambudkar) inherited.
Forced to keep a calm and collected exterior when operating her B&B business, she has one foot set in the living world and another fully invested in the ghost world, as a confidante for the eclectic group of spirits. Below, McIver opens up about her process of embodying Sam onscreen, the challenge of Sam's awkward pauses in moments where the ghosts aren't seen by others, and the joy of bringing this beloved comedy to such adoring fans. Plus, she shares hopes for the future, opens up about collaborating with the writers, and so much more.
What has it been like getting to grow into this character of Sam and hone her communication skills with the ghosts this season?
Rose McIver: I think it's such a luxury to be on a show long enough that you get to grow and explore and discover the character because when you join a pilot, you don't really know who they are yet. There's definitely great stuff in the script that gives you a leaping-off point. I knew Sam was a bit type A. She was clearly very easily overwhelmed. There were a few little qualities that I picked up on, but she gets shaped by so many people. It's not just me, it's the actors that I play with. It's the writers, it's the designers on set, the costumes and makeup and hair.
It's a really organic process actually that over now 40 episodes, I feel like I know her better and better and I have more and more to draw from. And I keep getting like these breadcrumbs of who she is in each script. I think Sam hadn't had any experience like what she had at the beginning of the show, so it's OK that some of the things probably contradict what I set out to build her as because she's found herself in a circumstance that is so unusual and is testing and is really shaped a lot by the people around her.
What has your collaboration process been like with the "Joes" (showrunners and writers Joe Wiseman and Joe Port), especially on the show's approach to Sam's family life, which was addressed again in the finale, "The Heir," this season?
I think a lot has been said in what hasn't been said in this show in the sort of glaring absence of any family at their Christmas or we don't see her have too many friends come to visit. Sam's desire to connect with the ghosts is filling a void for her, for sure. And I think in some ways I wouldn't want any storylines to be added in that would dilute that potency either. I think the right things reveal themselves at the right moments. I'm very curious about Sam's father and what her childhood was like. There's a lot that I want to know, but I think we also learn a lot about somebody in the way they reflect the people around them.
And so in seeing how she relates to Hetty [Rebecca Wisocky] as a maternal figure, that's a really cool opportunity to explore what her dynamic was and wasn't with her own mom. Next season, I would like to see a little bit more about what her world might have been before. I would like to see that for all of the characters in this show. I'd like to see that for Jay. I'd like to see that for the amazing ensemble who are from such vivid different periods of history that we could tap into so many backstories. And it's why I think the show has so much longevity. It's like little pieces each time that build dynamics in the house and it's how we discover where everybody's from and how that has made them interact the way they do now. It's kind of the magic of the show, so I wouldn't want them to put the cart before the horse with any of that, but I'm very curious about her relationship with Jay's family as well.
You're best known for your role on iZombie. How did that show help you prepare for this series?
I had the most wonderful time working on iZombie. I absolutely loved it. I loved my collaborators and we had five really good years and a lot of fun together. It really built a lot of what I consider to be the skill set that I bring to comedy, drama, and television. I think the most important thing for me is always trying to anchor her with some authenticity. And it was the same with Liv. Both these shows are so heightened and have these very extraordinary circumstances and a lot of funny writing. So to me, it's just like, how do we give an audience something to anchor onto that they can believe and get invested in on a human level?
The show has really resonated with viewers. What does it mean to be a part of something that's so special to fans?
It's so moving, it's such a privilege. I'm very aware of how insanely privileged my job is that I get to tell stories for a living. I do try to work really hard and do a good job at it, but it's a job that people would love to have and is only worth anything because people watch it and care. And so they're the crucial ingredient in this whole exchange that we are having when we release a show and knowing that it resonates and it means something, I feel really lucky for that.
The fans are so creative, I'm always amazed by it — not only their cosplays and fanfiction but just their good critical analysis. When people are talking about some of the relationships onscreen or why somebody's done something the way they have, a lot of us could get ideas from reading those and from reading their speculation that is often really [good] because it's so very thoughtful.
What is the biggest challenge of performing Sam's pauses on the show?
I think the biggest challenge with those is just striking the balance of what is remotely feasible that Sam can get away with in a room. And also she's engaged, she has to be sort of present in the drama and the action of the secondary scene that's happening. So trying to really navigate that was pretty challenging when Sam's old college buddy comes to stay with her Danish husband, and there was one particularly challenging dinner scene where Thor [Devan Chandler Long] is completely losing it and Sam is trying to stay present with these guys and striking the balance and making sure it doesn't detract from either of the two scenes that are happening at once, I think, is the hardest.
I really enjoy being able to play an adversarial side to Sam as well. I like any moments where we can see she has very obvious shortcomings, but they tend to always be very kind — she's very kind about how she's trying to do things. So I like the moments where we get to really underline that.
Does Sam enjoy helping the ghosts as much as following her own path?
Definitely. I think she loves [it]. She's kind of a busybody in the loveliest way. She just really wants to be involved in everybody else's lives. She is a crucial element in all these people's lives. It's been the hardest thing that's happened to her that she's taken on in some ways. And it's also been just an absolute [joy], like landing at the end of a rainbow or something.
Ghosts, Season 3, TBA, CBS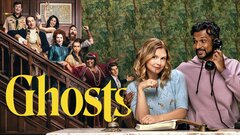 Ghosts
where to stream
Powered by