'Community' Movie Delayed at Peacock
Although it was confirmed that Community would receive a follow-up film slated to arrive on Peacock in 2022, its future is left uncertain due to the ongoing Writers Strike. According to series star Joel McHale in an interview with TV Line, the movie has been delayed just as traction was beginning to pick up on its development.
"That was a bummer, because we were getting very close," he told the outlet during his promotion for Crime Scene Kitchen. "But at the same time, I'm a thousand billion percent behind the writers. The writers need to be paid." Although progression on the movie has been paused, he still says the film will happen at the right time. "When this strike is over, we'll come back and we'll make it," McHale said. "And I am sure that [series creator] Dan [Harmon] will put in 12 jokes addressing the fact it took this long to come together. But we'll get there. It just may take a little while."
At the time of the film's announcement, it was confirmed McHale would be returning alongside Danny Pudi and Alison Brie as Abed Nadir and Annie Edison, respectively. Also returning is Gillian Jacobs as Britta Perry, Jim Rash as Dean Craig Pelton, and Ken Jeong as former Spanish professor Ben Chang. However, Yvette Nicole Brown, Donald Glover, Chevy Chase, John Oliver, Jonathan Banks, Keith David, and Paget Brewster have been confirmed not to appear. Although, Harmon says the film may include Glover.
"'Six seasons and a movie' started out as a cheeky line from Community's early seasons and quickly ignited a passionate fan movement for this iconic, hilarious and cool (cool, cool) NBC comedy," NBC Universal Television's Chairman of Entertainment Susan Rovner said in a statement in September. "We're incredibly grateful that 15 years later, we are able to deliver fans this promised movie and can't wait to get to work with Dan Harmon, Andrew Guest, Joel McHale, Sony, and our partners at UTV to continue this epic comedy for Peacock audiences."
"We are grateful to Peacock, our partners at UTV and to all the zealous fans who have cherished this iconic show."
Community originally aired on NBC before being canceled after five seasons. However, the show continued for one more season on Yahoo TV.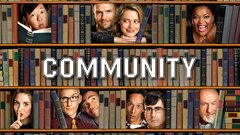 Powered by