'Cruel Summer' EPs Jessica Biel & Michelle Purple Tease the 'Intricate' Puzzle of Season 2 (VIDEO)
It doesn't matter of your idea of a Cruel Summer invokes Taylor Swift or Bananarama, there's still a hot season's worth of mystery to unpack in round 2 of Freeform's anthology hit.
Like the 2021 edition, which bounced between three consecutive summers for its tale of a Texas teen who was abducted and her classmate who could have saved her, this new story also employs multiple timelines. Except here, we're dropping into a trio of periods within a single calendar year at the end of the last millennium as small-town teen Megan (Sadie Stanley of The Goldbergs) and Isabella LaRue (Lexi Underwood, Little Fires Everywhere), the transfer student spending senior year living with Megan's blue-collar family, go from strangers to besties to possible murder suspects. Griffin Gluck (Locke & Key) costars as Luke, Megan's childhood pal who instantly catches Isabelle's eye. But this is not your usual "girls fighting over a guy" cliché-fest. In fact, it takes a few episodes to even get a clue as to what these three really did this Summer. And it's fun as hell.
"It's just so complicated, to put together the puzzle pieces of the three timelines, the dual perspectives and is it making any sense?," offers executive producer Jessica Biel. "I'm always like, 'Is anybody going to understand this at all?' And then, oh my God, surprisingly, they do!"
Biel and partner Michelle Purple formed Iron Ocean Productions, the production company behind Cruel Summer (as well as The Sinner and Limetown), with the mission to tell powerful stories that enhance female voices for all audiences. Since the show is an anthology featuring a different story, cast and tone each season, that means even more potential for women in front and behind the camera. Tia Napolitano was the showrunner on the moody Summer Season 1, while Elle Triedman brought her own aesthetic to oversee Season 2, which showcases two tremendous performances by Stanley and Underwood.
"We are so grateful we found them. They delivered and were such great leaders on the set, both of them," raves Purple, adding that the multiple time-frame format established in Season 1 takes a special kind of performer to pull it off. "What we loved about it was, we gave these women the opportunity to play three different roles," she continues. "It's the same character, but really three different parts of that character…and there's not many opportunities to do that, I would assume, for actresses to sink their teeth into stuff like that."
"We love working with these amazing young actors," echoes Biel. "We love putting them in these risky situations…real adult kind of situations. And the nostalgia of the '90s makes everything fun!"
Cruel Summer, Season 2 Premiere, Monday, June 5, 9/8c, Freeform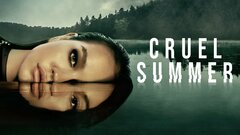 Powered by