'Shiny Happy People' Creators on Why Duggar Documentary Is Needed Right Now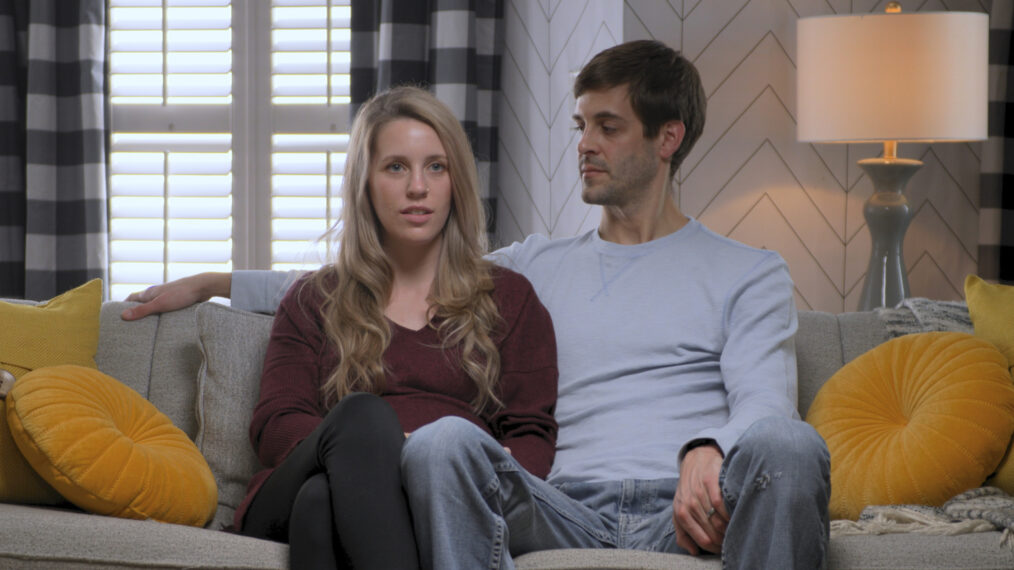 The Duggar family's previously "shiny" image has long been tarnished. The fall from grace was certainly earned — eldest son Josh Duggar is currently serving a 12+-year prison sentence for possession of child pornography, and in Shiny Happy People: Duggar Family Secrets, the Duggar documentary premiering June 2 on Prime Video, viewers will learn more of the unconscionable lengths Jim Bob and Michelle Duggar went to to shield their firstborn from the consequences of his actions.
Like FX's The Secrets of Hillsong, Shiny Happy People first focuses on one disgraced religious figure before pivoting into the large-scale issue in which they were involved. Hillsong details Carl and Laura Lentz's ousting from the megachurch, then shifts gears to show their place as cogs in the wheel of Hillsong's cycle of abuse led by founder Brian Houston.
Shiny Happy People takes the expansion further, showing the alarming reach the Duggar's cultish religious community — the disgraced Bill Gothard's Institute in Basic Life Principles (IBLP) — has achieved in present-day American politics. (One of the main architects behind the overturning of Roe v. Wade is connected to IBLP, as Shiny Happy People executive producer Cori Shepherd Stern tells TV Insider.) It started with establishing control over the IBLP families through strict teachings, disseminated among the group's youth through a specially curated homeschooling program.
Through this, as said in the trailer below, "Gothard turned every father into a cult leader and every home into an island," and "world domination was the goal."
Through interviews with Jill Duggar and her husband, Derick Dillard, cousin Amy King, her mother, Deanna Jordan (Jim Bob's sister), other former IBLP members who were made to be part of the group as children, the four-part docuseries investigates the sexual, physical, and emotional abuse that's baked into IBLP's policies, revealing how that abuse was happening behind the scenes all throughout 19 Kids and Counting and the Duggars' public life at large.
Here, Stern, executive producer Blye Pagon Faust, and director Olivia Crist outline why Shiny Happy People had to be made now, as America sees a rise in right-wing religious extremism, and how the Duggars fit into that decades-long game.
Each has a different connection to religion. Stern was raised in a fundamentalist church and recalls when IBLP's influence "really turned everything to the right." At first, her family subscribed to the "Jimmy Carter"-style of Southern Baptist, but despite not being part of IBLP directly, enough of the families at her church were involved in the group that they steered its culture toward fundamentalism. "I remember that happening in our church where it just got more and more restrictive, and suddenly I couldn't watch certain TV shows and I couldn't go trick or treating because it was 'satanic,'" she recalls.
Faust attended a Southern Baptist church until she was 13, leaving because the ideology didn't align with her own. Working on this documentary gave context to the shifts she witnessed when she was a teen. "[There was] a lot of, 'Oh, that's what was going on,'" she says.
Crist, who directed the series with Julia Willoughby Nason, has "an interesting family background in relationship to religion," but her main draw to the docuseries was the Duggars. "The Duggars were like a cultural touchpoint for a lot of people," she says. "I was kind of a passive watcher throughout the years, and then really digging into and going down the rabbit hole of the story, you start to learn more and more."
Some lessons from the four episodes: IBLP's homeschooling curriculum features pamphlets warning girls against showing any skin so as not to "tempt" boys and men, teaching young women that abuse was their fault; children were conditioned to obey their parents upon command through physical abuse (on camera, the Duggars were gentle with their kids, while off camera they dealt harsh physical punishments); TVs and radios were banned in the house so children couldn't get a glimpse of the outside world that contradicted what their parents taught.
In one of the most egregious examples, Jim Bob and Michelle used the daughter of their closest friends, Jim and Bobye Holt (who give interviews in the series), as "bait" for Josh — if he stopped sexually abusing his sisters, he could marry Kaeleigh Holt, and they intended to keep the abuse secret from the Holts until after Josh and Kaeleigh got married (they didn't — Josh married wife Anna Duggar in 2008 in a televised TLC special). All of these lessons aligned with Gothard (who died in 2021) and IBLP's teachings.
Fictional and non-fictional TV shows about the dangers of rising Christian nationalism in the U.S. are increasingly common. Shiny Happy People and The Secrets of Hillsong are the most recent examples, but true-crime dramas like Under the Banner of Heaven and Waco and the dystopian future of The Handmaid's Tale also serve as warnings. Despite the bevy of media warnings (or perhaps in spite of it), there is a noticeable rise in Christian nationalists vocalizing their beliefs on social media and in government.
The doc touches on how these groups believe America needs to be "taken back" to a time when white Christian men were more in control of society as a whole. Stern says this disconnect in exposing and emboldening are a sign of the times. "There's this long-term plan to return the country to Christ, and it is a very well thought out plan, and they worked hard and became opportunistic at the same time," she explains, adding, "What I believe is that political leaders moved into place who were not afraid to express extreme beliefs. And then that emboldened other people to begin to express more and more extreme beliefs, and that was fuel to the fire with the internet and social media."
Stern, Faust, and Crist see the Duggars as a conduit to the normalization of this movement (as viewers will see in the first episode).
"They were a fantastic marketing tool for the institute," says Stern. As noted in the doc, TLC went from an informational channel to the place where atypical people like the Duggars could be observed from a distance. Shiny Happy People, Crist says, is aimed to "flip the script on the viewer" and show them what they were tolerating while passively watching this family.
"When something doesn't feel 100 percent right, there's usually more to the story," she says. "I think there's a certain complicity in the viewership which is interesting for us to look at too." Stern and Faust agree that TV networks are also complicit in platforming these beliefs. "People were consuming misogyny as comedy, as hilarity, as quirk," Stern notes. "The same thing with educational abuse. These kids weren't being educated. They were all sitting there with their little booklets. Now we've seen inside those booklets the Duggar kids were using as the basis for their entire education, and we were just watching it along with the tater tot casserole."
While the Duggars went off air, their movement didn't slow down. Teenagers from these homeschooling programs became part of groups called TeenPact and Generation Joshua. Through these groups, they were taught how to lobby politicians and were sent to various halls of Congress to do so. Some of them became politicians themselves — one of the most successful people to come out of Generation Joshua was former North Carolina congressman Madison Cawthorn. He once interned for Alyssa Farah Griffin, currently the conservative host on The View. Both attended Patrick Henry College, a Christian private school founded by Michael Farris in 2000 to cater to those who came up through these religious homeschooling programs.
Farris also founded the Home School Legal Defense Association and is the former President and CEO of the Alliance Defending Freedom (formerly the Alliance Defense Fund), a Christian legal advocacy group that aims to expand Christianity in public schools and advocates against reproductive and LGBTQIA+ rights. ADF played a major role in the overturning of Roe v. Wade in 2022. Farris's connection to IBLP is detailed in a book written by his wife, Vickie Farris, A Mom Just Like You.
"Her husband went to a Bill Gothard seminar, he came home and said, 'we're gonna have as many kids as God will give us,' basically. I'm paraphrasing, but they became a Quiverfull family," Stern says. Quiverfull is a Christian theological position that sees large families as a blessing. They abstain from all forms of birth control and sterilization. It's the philosophy the Duggars follow, as taught by Gothard. Shiny Happy People details how these Quiverfull children were trained to be "arrows" deployed to "take America back for Christ," as said by former Generation Joshua member Alex J. Harris, who's also interviewed in Episode 4.
The trajectory was homeschooling to Patrick Henry College to wherever the movement sent you next. For Griffin and Cawthorn, it was TV and congress. Farris is well known by all of them, especially those in "GenJ."
Farris went to "Gothard seminars, he gave Bill Gothard an award. He started the HSLDA…and now he runs the organization that is absolutely the architect behind not just Roe v. Wade, but all of the things coming up, all of the landmark cases," Stern says. Farris left ADF in 2022, but prior to that, he played a key but secret role in the attempt to overturn the 202o presidential election results. They were working on the documentary when they learned of Farris's connection to all of this.
"We were terrified when that came out and we were just watching it unfold. We knew where the ugly, ugly roots were," says Stern. The Duggars having helped plant those roots, the team felt an "absolute" need to get this documentary out sooner rather than later.
Looking ahead, government regulation will play a huge part in combatting the continued growth of oppressive religious fundamentalism. The "linchpin" in this "whole system of indoctrination," Faust says, is the homeschooling program. "There was a piece yesterday in The Washington Post that was really beautifully written about a family who had moved out of the homeschooling space and enrolled into public schooling, and what a huge, huge step that was for them as a family because of their greater extended family within their church, within their belief system. If you look at this, and you start looking at the numbers of kids who are homeschooled in this country with little or to no oversight of what they're learning, that is inexcusable."
Shiny Happy People "isn't an anti-homeschooling piece by any means," adds Crist. "There is a right way to homeschool, and there's a wrong way to homeschool. The wrong way, as we've seen from the show and a lot of other pieces that are popping up now, involves a lot of abuse."
Through this docuseries, the creators hope to generate meaningful conversation around this topic, because unregulated homeschooling "is one of the places where these ideas are allowed to spread," according to Faust. "When you're indoctrinating kids from day one, and you're keeping them isolated from the rest of the world, and you are not teaching them a secular education, and you're denying them the true facts of many things, it's a breeding ground for trouble and for problems later on."
Shiny Happy People: Duggar Family Secrets, Available Now, Prime Video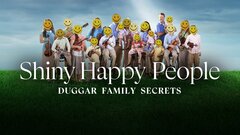 Powered by