Critic's Notebook: How 'Succession,' 'Barry' & 'Ted Lasso' Stuck Their Landings
[Obviously, major spoilers follow.]
Brutal. Bloody. Big-hearted.
In an extraordinary week for much-anticipated series finales, three Emmy-winning shows found their own distinctive ways to take a last bow: two from HBO — one an acclaimed drama of dynastic conflict, the other a perverse fable of violent retribution in the shadow of Hollywood — and the third from Apple's streaming upstart, a charming sports comedy saturated in sweetness.
Of the three, the most likely to be remembered in the pantheon of all-time great finales is HBO's Succession, the brilliant but bleak masterpiece of media mendacity from Jesse Armstrong. Often compared to Shakespeare with its King Lear-like patriarch igniting familial strife, but in the end closer to the lacerating Edward Albee of Who's Afraid of Virginia Woolf and A Delicate Balance, the final run of Succession was shocking from the moment that multimedia mogul Logan Roy (Brian Cox) died midflight in the third of 10 episodes. After three previous seasons of squirming under Logan's unyielding reign, his unruly offspring—most prominently the ambitious and arrogant Kendall (Jeremy Strong), the needy man-child Roman (Kieran Culkin) and the calculating odd-sister-out Shiv (Sarah Snook)—were finally in a position to claim the tarnished throne. But who?
As it turned out, in a twist of bitter yet delicious irony, none of them did. When push came to shove — and there was plenty of shoving and even a memorable slap fight — Shiv couldn't give Kendall the vote of confidence he required at the board showdown, and their Waystar Royco empire went to tech disruptor Lukas Matsson's (Alexander Skarsgård) GoJo and his hand-picked puppet, the ever-obsequious Tom Wambsgans (Matthew Macfadyen), Shiv's estranged husband. Tom brought along his own puppet, the gawky would-be Judas known as Cousin Greg (Nicholas Braun).
In one of the more chilling final shots, Tom and the pregnant Shiv sit in a limo, hand resting awkwardly on hand in an unholy alliance with nary a scintilla of warmth or sense of triumph. For Kendall, last seen staring into the depths of a frigid harbor, he has been rendered a hollow shell, his dreams of glory and power shattered beyond repair. Strangely, Roman is the realist in this fallout, muttering, "We are bulls**t."
Turns out daddy Logan was right when he told them, "You are not serious people." Not that Matsson will be any more stable a steward of a media conglomerate that may have brought the nation to ruin with its election-night shenanigans. Succession is a modern tragedy couched in hilariously biting dialogue. And the scene that lingers with me most poignantly, as I replay it in my head, is the moment at their frosty mother's Barbados retreat when the three sibs, in a rare show of unity (after Shiv learns Matsson denied her own traitorous CEO dreams), joke and horse around in the kitchen, acting like spoiled but joyful brats. If their dad hadn't set them against each other from the start, maybe they could have lived happily ever after.
Such a fate was never an option for HBO's equally audacious Barry, the bizarre pitch-black dramedy of a Marine-turned-hitman (Bill Hader, also the series' co-creator and, by the end, director) who stumbles into an L.A. acting class and attempts, in vain, to reform and become a new Barry. The final season took a bold eight-year time jump at midpoint after Barry escapes prison — violently, of course — and starts a new life with off-and-on girlfriend Sally (Sarah Goldberg) and their son John, isolated from society in a remote desert location.
Inevitably, Barry's dark side can't be denied, no matter how hard he tries to become pious. The endgame begins with his decision to return to L.A. to kill his former acting coach Gene Cousineau (Henry Winkler) upon learning of a film being made about their soured relationship. This puts Barry directly in the crosshairs of a deadly feud between his one-time mentor, Fuches (Stephen Root), now transformed after a prison stint into the vengeful "Raven," and Chechen gangster NoHo Hank (Anthony Carrigan), who kidnaps Sarah and John, using them for bait.
Barry's finale is suspenseful, though contrived and almost entirely devoid of humor unless you're the sort who cracks up when two armed armies of gangsters turn on each other and mow each other down. This rather predictable scenario occurs in the aftermath of Fuches shooting Hank, then protecting young John amid the massacre and delivering him to Barry, who believes this is a sign that he may yet be redeemed. Too little too late, because after Sally flees with John when she realizes Barry won't turn himself in, our antihero ends up at Gene's house looking for his family, instead being shot and killed by his deranged acting coach. "Wow" is Barry's final word of wonder, appropriately enough.
Redemption comes only later, in the ironic form of a phony Hollywood biopic that turns Barry into a hero and Gene (now serving life in prison) the villain. As his now-teenage son watches the film in ambiguous silence, we learn Barry was laid to rest with full military honors, gaining the respect in death he never had for himself in life. As he might say: Wow. And yet, as impressed as I was by the clever circumstances of Barry's final act, I felt mostly emotionally detached by the time it was over.
Whereas the saccharine ending of Ted Lasso on Apple TV+ overflowed with tears, hugs, humor, and sentiment. I'm a softie at heart and not exactly allergic to tear-jerkers, but the relentless good cheer became rather cloying long before Ted (Jason Sudeikis) landed in Kansas to reunite with his family. Satisfying? Yes, in the way of any solid traditional TV comedy. Surprising? Almost never.
Even the episode title ("So Long, Farewell") telegraphed one of the better gags, when the AFC Richmond team serenaded their departing Coach Lasso at the final practice with that winsome ditty from "The Sound of Music," complete with choreography. Anything more astringent, like the fight between Roy Kent (Brett Goldstein) and Jamie Tartt (Phil Dunster) over the affections of Keeley (Juno Temple)—who showed them both the door—happened off camera. (Unlike the slap battle between Tom and Greg on Succession, which was instantly seared into memory.)
I'll admit to getting a bit choked up when the players revealed they'd all been carrying remnants of the ruined "Believe" banner on their person. Soon, though, I began to feel like I had been embraced in a bear hug that wouldn't quit, with more rushed happy endings than in a book of condensed fairy tales. The team won the match (though fell just short of the title), with reformed wunderkind Nate (Nick Mohammed) called in to consult on the successful final play. Roy joined the Diamond Dogs, became the team's new manager, and started therapy with Sharon (Sarah Niles). Arch-villain Rupert (Anthony Head) was humiliated and hooted off the pitch with a "wanker" chant. Rebecca sold 49 percent of the team back to the team's adoring public. And after her "classic romcom leave-cute" with Ted at the airport, she (Hannah Waddingham) got her own meet-cute, accidentally reunited with the Dutch pilot from Amsterdam and his adorable daughter. And so it went.
One exception that was pure comedy: Coach Beard's (Brendan Hunt) feigned appendix attack on the plane, allowing him to return to his beloved Jane and get married—at Stonehenge. Now that was a hoot.
Otherwise, let's take Ted at his word when he delivered his last elaborate pop-cultural spiel: "I'm like Michael Flatley at 11:59 p.m. on St. Patrick's Day. I'm tapped out, you know what I mean?"
Ted Lasso's many critics this uneven season certainly do. And while I would have preferred the episodes to be shorter and more disciplined, less obvious in their good-for-you life lessons, I'll miss Ted's quips and the show's overabundant heart. If it was all a bit much by the end, I suppose that was (as Trent Crimm's original book title put it) "The Lasso Way."
Succession finale (streaming on Max): 5 stars
Barry finale (streaming on Max): 4 stars
Ted Lasso finale (streaming on Apple TV+): 3.5 stars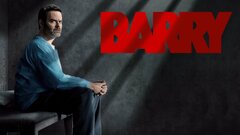 Barry
where to stream