'Justified: City Primeval' Trailer: Timothy Olyphant Returns as Raylan Givens Faces New Lethal Foe (VIDEO)
Raylan Givens returns with a new foe in a new city in the Justified: City Primeval trailer, released by FX on Wednesday, May 31. The next installment of the Justified story arrives July 18 on FX, with next-day streaming available on Hulu.
"Having left the hollers of Kentucky 15 years ago, Raylan Givens now lives in Miami, a walking anachronism balancing his life as a U.S. Marshal and part-time father of a 15-year-old girl. His hair is grayer, his hat is dirtier, and the road in front of him is suddenly a lot shorter than the road behind," the logline teases. "A chance encounter on a desolate Florida highway sends him to Detroit. There he crosses paths with Clement Mansell, aka The Oklahoma Wildman, a violent, sociopathic desperado who's already slipped through the fingers of Detroit's finest once and aims to do so again."
"Mansell's lawyer, formidable Motor City native Carolyn Wilder, has every intention of representing her client, even as she finds herself caught between cop and criminal, with her own game afoot as well," the logline continues. "These three characters set out on a collision course in classic Elmore Leonard fashion to see who makes it out of the City Primeval alive."
Timothy Olyphant reprises his role as Raylan Givens in the reboot, with Aunjanue Ellis co-starring as Carolyn Wilder, Boyd Holbrook as Clement Mansell, and Olyphant's daughter, Vivian Olyphant, playing his on-screen kid, Willa Givens.
The rivalry between Raylan and the killer-for-sport Clement comes to a head in the trailer when the villain threatens Willa in front of her dad. Now, things are personal. Adelaide Clemens, Vondie Curtis-Hall, Marin Ireland, Norbert Leo Butz, and Victor Williams also star.
Dave Andron and Michael Dinner serve as showrunners and executive producers. Timothy Olyphant, Graham Yost, Sarah Timberman, Carl Beverly, Taylor Elmore, Chris Provenzano, and V.J. Boyd also executive produce.
Peter Leonard of the Elmore Leonard Estate executive produces with MGM Television. Walter Mosley and Ingrid Escajeda are consulting producers, and Eisa Davis is a producer. Sony Pictures Television and FX Productions produce the series.
Justified: City Primeval, Series Premiere, Tuesday, July 18, 10/9c, FX, Next-Day Streaming, Hulu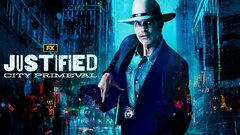 Powered by