'The Librarians' Face Threats From Every Angle in the Season 3 Finale (VIDEO)
The Librarians may be facing their biggest challenge yet in the Season 3 finale, "And the Wrath of Chaos," airing on January 22.
While the government's Department of Statistical Anomalies (DOSA) is infiltrating the Library—picking through and packing up magical artifacts they couldn't even begin to understand—the Librarians are called on by their old pal, Apep. The God of Chaos drops by to crank up the panic levels to at least an 11.
RELATED: The Librarians Deals With Some Major Turbulence (VIDEO)
In the clip below from the explosive finale, Jake (Christian Kane), Cassandra (Lindy Booth) and Ezekiel (John Harlan Kim) find themselves on a scavenger hunt that may not be what it seems. Though Cassandra does seem to sum up their lives well when she retorts, "Our whole job is a scavenger hunt."
Check out the exclusive peek at the Season 3 finale:
And here's the promo for the episode, released by TNT.
The Librarians, Season finale, Sunday, January 22, 8/7c, TNT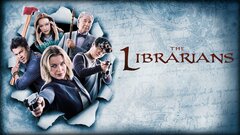 Powered by