'The Librarians' Deals With Some Major Turbulence (VIDEO)
Our favorite brainiacs face a new challenge in The Librarians's "And the Trial of the Triangle," which airs on Christmas night. In Season 3's third episode, it seems all of The Librarians hard work, particularly that of leaders Flynn Carsen (Noah Wyle) and Eve Baird (Rebecca Romijn) isn't paying off, as Pure Evil spreads across the world. They must not only locate the Eye of Ra to stop Pure Evil from taking over completely, but the team simultaneously tackles the mystery of the Bermuda Triangle. Sounds like a doozy.
In the exclusive clip below, the pressure to succeed weighs on Flynn, who is willing to put the lives of civilians at risk for the greater good—but not on Baird's watch. While aboard a plane, she shoves Flynn into the tiny bathroom for a chat that turns into much more when she (literally) knocks some sense into him.
RELATED: The Librarians Face a New Ancient Villain in Season 3
Meanwhile, in the plane's cabin, the team encounters some ominous turbulence that might have you cancelling your holiday flight!
This episode also marks Wyle's TV-writing debut, and from the looks of it, he'll be taking his character to a pretty dark place in this episode.
Watch the clip below for more.
The Librarians, Sundays, 8/7c, TNT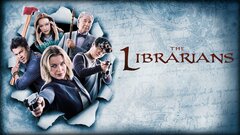 Powered by