'Grey's Anatomy' Season 19 Episode 18: An Ex-Surgeon Is Rehired (RECAP)
Ready to Run
Season 19 • Episode 18
As we near the end of Grey's Anatomy Season 19, we're seeing the victorious return of a surgeon who lost her job at Grey Sloan at the end of last season. Not only does she get her job back in Season 19, Episode 18, May 11's "Ready to Run," she also gets a promotion and a date. Read on, Grey's fans…
[Warning: The below contains major spoilers for the Grey's Anatomy Season 19, Episode 18, "Ready to Run."]
As the episode starts, Richard (James Pickens Jr.) and Teddy (Kim Raver) share good news: Three current and past Grey Sloan employees have been nominated for that year's Catherine Fox Award: Nick (Scott Speedman) for his xenotransplantation and Winston (Anthony Hill) and Maggie for their partial heart transplant.
Amelia (Caterina Scorsone) tries congratulating Winston, but he gives her the cold shoulder again.
Winston does accept Richard's congratulations, though, and he confides to Richard that it'll be awkward to see Maggie at the ceremony in Boston.
Nick, meanwhile, says he's not attending the ceremony. He claims he doesn't believe in ranking medical achievements, but Richard has a hunch Nick is just avoiding seeing Meredith, who's living in Beantown now. And Richard is pissed. He tells Nick that not attending the ceremony would be an insult to Grey Sloan and to Richard's wife, the namesake of the award. And by the episode, Nick relents and tells Richard he'll go. He has interns looking up to him, after all.
Also, Amelia (Caterina Scorsone), Owen (Kevin McKidd), and Bailey (Chandra Wilson) are a little salty about getting snubbed for Catherine Fox Awards again. Bailey, in particular, could have won the award many times over for all the surgical innovations she has spearheaded over the years. Remember that 12-person domino surgery?
Now, onto the patients of the week: Two of this episode's patients of are familiar faces. Sam (Sam Page), the ex-Air Force pilot from last week, is recovering from his many bone fractures… but he's feeling well enough to continue flirting with Jo (Camilla Luddington), much to Link's (Chris Carmack) disgust. Link tells Jo it was unprofessional of her to have told Sam that she's single. But Jo brushes off his jealousy. And she wows Sam again when she cuts into his leg and fixes a post-op hematoma on the fly.
It's probably telling that when Sam realizes that Jo and Link live together, she's quick to point out that they're only roommates…
Speaking of roommates, Maxine (Juliet Mills) is still in the hospital after her UTI resulted in delirium and sepsis last week. Millin (Adelaide Kane), her friend and roomie, talks her way onto Max's case. But when Max collapses in the bathroom, suffering a brain bleed and a fractured rib, Bailey gives Millin the boot. So by the end of the episode, Millin can only watch — and worry — from the sidelines.
And the new patient is Ray (Lincoln A. Castellanos), a 29-year-old with a high risk of abdominal aortic aneurysm. Teddy is rarin' to get in there and fix Ray's aorta, but Ray flees the hospital, freaked out about the risks of the surgery. "Those consent forms say I could die a dozen different ways," he tells Teddy.
Adams (Niko Terho) chases after Ray and proposes that they just go for a walk and talk. So he and Ray take a stroll through a park, and Ray explains that he dreamt that his grandfather in heaven said they'd be together for their 30th birthday. Adams eventually persuades Ray to consent to the surgery.
So Adams is understandably devastated when Ray's aorta ruptures in the scan room and he dies, despite Teddy's best efforts to save his life.
Later, Nick tells Adams that one aspect of them both having ADHD is that they're prone to fixating on negative surgical outcomes, so they have remember to spend as much time celebrating the positive ones.
And in nonmedical developments, Griffith (Alexis Floyd) has pushed up her wedding because of her grandmother's deteriorating dementia, and she's shoring up her RSVPs. Griffith asks Yasuda (Midori Francis) if she has a plus one. But Yasuda doesn't… yet.
As it happens, Helm (Jaicy Elliot) is back at Grey Sloan that day to talk to Richard about getting her old job back. And Yasuda tells her she's mad at her for complaining to the senior staff on Yasuda's behalf. But after Helm offers to give Yasuda some space, Griffith tells Yasuda she's picking up on the chemistry between the two of them. ("Who's your plus one again?" she coyly asks.)
Levi (Jake Borelli) finds Richard in the hallway and tells him to bring Helm back and give her whatever she wants. And it seems like Richard does just that. That night at the bar, Helm informs Levi that she's coming back. And not only that, but she'll join him as co-chief resident. She breaks the news tentatively, thinking that Levi might not want his job split. But he's relieved. "That's the best news ever," he says, wrapping her in a hug. (But then he finds out that she got eight weeks of vacation per year!)
Then Yasuda finds Helm at the bar and asks her to be her plus one to Griffith's wedding. "I like you like you," she says.
And Helm realizes — and then side-steps — a potential wrinkle. "Yasuda, I'm about to be your boss," she says. "But if the wedding is this weekend, then our date would predate my employment."
But will there even be a wedding? At the end of the episode, Adams tells Griffith not to get married. "Trey doesn't see you, or maybe he sees an old version of you," he reasons, referring to her fiancé. "But I see you, and I love every single thing that I see."
Hey, it's better he said something now, instead of pulling a Jackson and stopping a wedding mid-ceremony, right? We'll see what Griffith decides to do next week during the double-length Season 19 finale!
Grey's Anatomy, 2-Hour Season 19 Finale, Thursday, May 18, 9/8c, ABC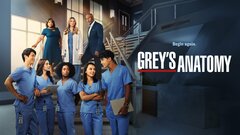 Powered by