'I'm Back, Baby': Dive Into 'FUBAR' With Arnold Schwarzenegger & Monica Barbaro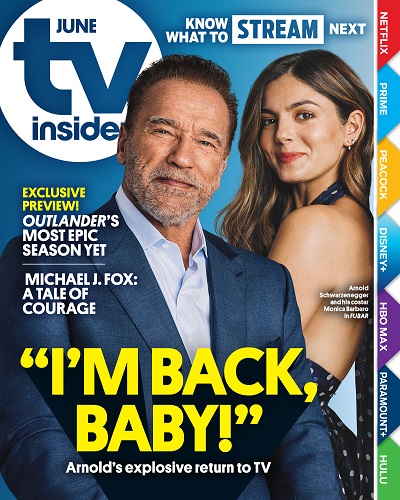 In the middle of Guyana, a Jeep speeds over the rough terrain, fleeing from another vehicle that's inching ever closer, with a team of bad guys shooting a generous spray of gunfire. Suddenly, one of the Jeep's passengers leaps off the back and onto the hood of the second car, swiftly tossing one baddie after another to the ground before pummeling the driver until the car smashes into a tree. Is our hero hurt? Hardly. The unscathed jumper is none other than Arnold Schwarzenegger, longtime Terminator, onetime Governator and now, finally, a bona fide TV series action star, courtesy of a rollicking spy adventure show called FUBAR.
Yes, it's true. The seven-time Mr. Olympia bodybuilding champ, box office giant and former California governor has ventured into uncharted territory thicker than the jungle in his 1987 action flick Predator, playing in his first scripted television series. It's no surprise that "The Austrian Oak" was game for anything.
"Those [action] scenes feel like coming home," he tells TV Insider magazine. "I'm always up for whatever will pack the biggest punch." FUBAR does just that. (The title, a military acronym, means Fouled Up Beyond All Recognition.)
In the eight-episode Netflix series, Schwarzenegger plays skilled top-secret CIA operative Luke Brunner, set to retire after 40 years with one goal in mind—to win back Tally (Fabiana Udenio), the loving ex-wife who divorced him 15 years earlier due to his intensive job demands. (Luke's family believes he's a gym equipment salesman.)
"Getting her back is all he's been dreaming of, so it's not something he's giving up on easily," Schwarzenegger says. However, an urgent call from the White House sends Luke in for one last mission, where he makes a startling discovery: His beloved grown daughter Emma (Top Gun: Maverick's Monica Barbaro), who he thinks works for the Global Fund, is also a crack undercover CIA agent.
Worse yet, the two must now partner on the same mission; namely, to bring down psychotic arms dealer Boro Polonia (Gabriel Luna), who possesses a weapon of mass destruction. But each having just discovered the other's deception — à la Schwarzenegger's 1994 hit film True Lies — makes matters mighty frosty between them.
In pitching a father-daughter action comedy, executive producer Nick Santora remembers Schwarzenegger was "so open-minded to doing scripted television that when he heard [the FUBAR idea], he said, 'Yeah, I like that. Write it up.'" Producer and star seemed simpatico on all fronts, including one thing Schwarzenegger was excited about: "Luke is a dad! It was fitting for him to have amazing dad jokes!"
Barbaro, meanwhile, had to wrap her head around going toe to toe with her famous TV father, since Emma and Luke butt heads immediately when they combine forces. Schwarzenegger put her at ease quickly.
"On Zoom, he's got a cigar in his mouth. His [pet] donkey walks up, he gives him a cookie. You're like, 'OK, this is not what I expected but also everything I could have possibly hoped for!'" she says, laughing.
In the series, a key conflict for Emma is realizing a horrific fact in working with her father: "In my efforts to not be one of my parents, I have absolutely become them," Barbaro says. Luke must face his own truths about the daughter he doesn't know as well as he thought. "Luke can't believe his beloved, innocent Emma is actually a badass CIA agent with a potty mouth," says Schwarzenegger. "That's where a lot of the tension between them comes into play."
That tension gets so thick, the spy agency demands they do mandatory therapy together. In one session, the pair hold puppets of their likenesses and mimic each other's voices to work through conflict. To get Schwarzenegger's famed accent right, Barbaro asked him to record her dialogue.
"How far do I go into the funny impression of him, and how much do I keep what he sounds like?" Barbaro wondered.
She needn't have worried; Schwarzenegger's response: "Are you kidding? My kids imitate me all the time!" But for Barbaro, a proud moment came when "I had my [Schwarzenegger] puppet flex and kiss his own muscle. That made Arnold break."
Adding to the action and comic relief, the duo get support in the field from a wisecracking pair of "he said, she said" operatives.
This is an abbreviated version of the cover story for TV Insider's June issue. For more in-depth, reported coverage devoted to streaming shows from the publishers of TV Guide Magazine, pick up the issue, currently on newsstands or purchase it online here. You can also subscribe to TV Insider Magazine here now.
FUBAR, Series Premiere, Thursday, May 25, Netflix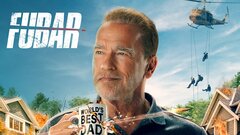 FUBAR
where to stream
Powered by