'Rick and Morty: The Anime': See the Titular Duo in Upcoming Spinoff (PHOTO)
Adult Swim has released a first look at its long-awaited Rick and Morty anime spinoff alongside Telecom Animation Film. The image of the upcoming Japanese collaboration showcases the titular duo with a new anime aesthetic. The image was released as part of Warner Bros. Discovery's massive slate of announcements coming to its newly dubbed streaming platform Max.
Although a first look was featured, there is still no news on a release date or a plot synopsis for Rick and Morty: The Anime. The art style of the anime seems to mirror their appearance in a couple of anime shorts based on the titular characters previously released in 2020 and 2021 by animation director Takashi Sano (Tower of God).
Koji Iijima acted as producer on the original anime shorts, while Maki Terashima-Furuta was the executive producer. The show was ordered by Adult Swim following the success of the Rick and Morty vs. Genocider and Summer Meets God (Rick Meets Evil) shorts films. However, the only thing known about the production of the upcoming series is that Telecom and Sola Entertainment are behind it and that Sano will return for the series.
In a statement at the time, Sano noted, "The multiverse-straddling exploits of Rick and the gang pose challenges to the family bond, but they always rise to the occasion. It's such a life-affirming sight, and Jerry is no exception. I am honored to have been given an opportunity to tell a new story about this amazing family. I hope you enjoy their adventures!"
It is also unknown if the series creator and voice of the titular characters, Justin Roiland, will be part of the spinoff, despite the charges from his controversial domestic violence charges being dismissed.
As of now, reports suggest Rick and Morty: The Anime is slated to debut in 2023.
First image for RICK AND MORTY: THE ANIME has been revealed.

The show will release on Adult Swim and Max (previously HBO Max) this year. pic.twitter.com/49eo2oOW0o

— Cartoon Crave (@CartoonCrave_) April 12, 2023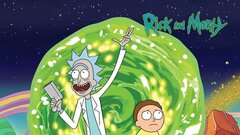 Powered by