'Up Here': Mae Whitman & Carlos Valdes on Why the Songs Make the Story (VIDEO)
In New York City in 1999, two former strangers named Lindsay and Miguel fall in love and discover that the single greatest obstacle to finding happiness together might just be themselves — and the memories, obsessions, fears, and fantasies that lives inside their heads. Those Up Here mental gymnastics are expressed through song in Hulu's new musical series, streaming as of Friday, March 24.
Mae Whitman and Carlos Valdes bring these songs to life along with their merry band of musical players. With songs from the EGOT-winning musical duo behind Frozen (real-life married couple Kristen Anderson-Lopez and Robert Lopez), Up Here is an emotional romp getting to the heart of what makes or breaks relationships.
The stars sat down with TV Insider's Kate Hahn during the Winter 2023 Television Critics Association Press Tour, sharing what makes the story so relatable and how the emotional arc of Up Here sticks the storytelling landing.
"I think it's always the mark of a really talented storyteller when A) you can be funny without being mean, B) there's really tangible growth in a character, and C) the character is able to speak naturally — there's what's on the surface, and then there's everything underneath, and it's all said somehow in all the pieces that you're combining," Whitman explains in the video interview above.
"[Writer Steven Levenson] wanted to write something where you couldn't have the show without the songs, because the story would be interrupted," she adds. "That's something that we really wanted from the beginning. It wasn't like, 'Look at this false thing!' It's just a different way of expressing those moments and those fantasies we have in our heads, 'cause we all have them! I think combining it with having the vulnerability of these terrible insecurities and feelings and voices in your head with the fantastical notion of how wild your imagination can be is a really exciting and strange and complicated scenario."
"Also the drama of people shaking up their lives and taking risks on stuff," adds Valdes. "It necessitates the bigness of musical treatment."
Up Here is based on the 2015 stage musical created by the Hulu series' music duo. The cast features an exciting group of musical theater vets such as two-time Tony winner Katie Finneran, Andréa Burns (Broadway's In the Heights), Brian Stokes Mitchell, Norm Lewis, Micaela Diamond, and Judy Kaye.
Learn more about the musical love story in the full video interview above.
Up Here, Streaming now, Hulu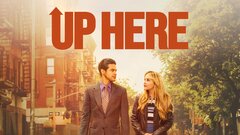 Up Here
where to stream
Powered by