Roush Review: Can Love Survive Hearing Voices in the Musical Rom-Com 'Up Here'?
I'm a sucker for musicals — counting the days till Season 2 of Schmigadoon! — but despite some fairly catchy tunes and the considerable charms of its adorable leads, there were times I wanted to beg Up Here to unplug the jukebox in their heads.
This eight-part rom-com, based on a 2015 stage musical by the award-winning team of Kristen Anderson-Lopez and Robert Lopez (Frozen, WandaVision), suffers from an off-putting gimmick. Both Lindsay (Parenthood's Mae Whitman), a would-be writer who fled her dull fiancé in Vermont to discover herself in New York, and Miguel (The Flash's Carlos Valdes), a love-shy fledgling investment analyst who would rather design video games, are constantly besieged by inner voices, a wet-blanket Greek chorus of nagging parents and obnoxiously scornful observers.
There are some ringers among these harpies, including two-time Tony winner Katie Finneran and the wonderful Andréa Burns (Broadway's In the Heights) as Lindsay's and Miguel's overprotective moms, respectively. More random is Sophia Hammons as Lindsay's 7th-grade nemesis, forever fueling her insecurities, and most annoying is Friday Night Lights veteran Scott Porter as the obnoxious jerk who slept with Miguel's fiancé and never misses an opportunity to tell this mensch to man up.
Our heroes know they're being held back by these noisy consciences who won't let them be who they want to be. But more critically, the device weighs down the genre clichés we can usually accept with minor eye rolls. And they could all use better material.
Thankfully, the repetitively rocky path to true love is made palatable by the chemistry between the winsome Whitman and the soulful Valdes, each acquitting themselves nicely in a score that hits all the beats: a "what if" anthem, power ballads, love duets, production numbers, averaging two songs in each 30-minute chapter. Broadway vets Brian Stokes Mitchell (as a hedonistic children's book author) and Norm Lewis (in a fantasy sequence) get to shine, and so does Micaela Diamond (a Tony contender in the acclaimed revival of Parade) as a free spirit unleashing Lindsay's inner bad girl. Theater fans might also recognize Tony winner Judy Kaye (in a non-singing cameo).
If Up Here doesn't quite fill the void left by the departures of the more inspired Crazy Ex-Girlfriend and Zoey's Extraordinary Playlist, or even Smash (heading to Broadway!) for that matter, I'll settle for a happy ending and a few new earworms.
Up Here, Series Premiere (eight episodes), Friday, March 24, Hulu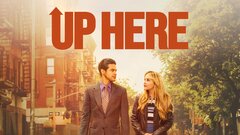 Up Here
where to stream
Powered by