'You' Renewed for Fifth & Final Season — What Penn Badgley Teased About 'Last Giant Hurrah'
You has been renewed for a fifth and final season. Will Season 5 finally see Joe Goldberg get his judgment day? The You Season 4 finale certainly set the stage for that possibility.
Netflix announced You's impending end on Friday, March 24. Along with the final renewal announcement came the news that Sera Gamble will step away from her showrunner position but stay on the series as an executive producer. Executive producers Michael Foley and Justin W. Lo will step in as co-showrunners for You Season 5, which Gamble says will reach a "delightfully twisted conclusion."
"As I step back from day-to-day showrunning to focus on new projects, I'm immensely grateful to co-creator and all-around genius Greg Berlanti, Caroline Kepnes, my friends at Berlanti Productions and Alloy Entertainment, and our steadfast partners at Warner Bros and Netflix," Gamble said in a statement. "Making the show alongside our writers, producers, directors, cast, and crew has been an honor and ridiculously fun. And I feel lucky to have worked with an artist as gifted and thoughtful as Penn Badgley. I'm proud of what we've all accomplished and feel privileged to pass the torch. I'm excited to watch and support the You team as they bring Joe Goldberg's journey to its delightfully twisted conclusion."
"We are so incredibly grateful to Netflix and Sera and everyone that has been a part of this show from the beginning," EPs Greg Berlanti and Sarah Schechter said in a joint statement. "Sera is the most brilliant writer and partner and she will remain a key part of the You family as an executive producer. We intend to bring her every idea we can from our company for years to come. Ever since our friends at Alloy shared Caroline Kepnes' fantastic book we have always conceived it as a five-season journey. We are excited to continue our relationship with Mike and Justin as they take over the reins as co-showrunners and prepare to bring Joe Goldberg home."
You premiered on Netflix in December 2018 after its initial season at Lifetime. Per Netflix, the series has grown its audience over the course of its first three seasons with more hours viewed through 28 days for each season than the one before it. Season 4 has spent five weeks in the Global Top 10 English TV list, and reached the Top 10 in 90 countries.
Badgley spoke with TV Insider following the twist-heavy Season 4 finale, which saw Joe not only getting the girl (Charlotte Ritchie's Kate), but also all the money her Lockwood legacy brings. What he doesn't know is, Marienne (Tati Gabrielle) broke free from her caged imprisonment and knows Joe is back in New York, and she wants justice.
Badgley said the finale felt like it was the series' way of "building towards one last giant hurrah." But is Rhys, Ed Speleers' Joe alter ego, part of that?
"I don't know if Rhys is a part of that. I don't know if Rhys is gone, or if [Joe has] become Rhys, what Rhys really is and represents," Badgley teased. "If Joe has really embraced this part of himself, what does that mean?"
We'll soon find out.
You, Fifth and Final Season, TBD, Netflix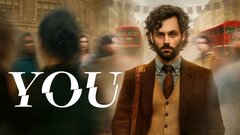 You
where to stream
Powered by