Why 'You' Brought Back Love & Beck for That Season 4 Twist
[Warning: The following contains MAJOR spoilers for You Season 4 Part 2.]
At long last, Love has arrived, and Joe thanks God she's not alive. Love Quinn and Guinevere Beck return in You Season 4 Part 2, streaming on Netflix as of Thursday, March 9. And suffice it to say they're pissed off.
Victoria Pedretti and Elizabeth Lail reprise their roles in ghost form in Episode 9, directed by star Penn Badgley. But like another major character in Part 2, Love and Beck aren't actually there. Rather, they appear in one of Joe's Valium-fueled nightmares after his suppressed memories of his time in London come flooding back.
Badgley tells TV Insider that while Love and Beck's return are a brief fantasy, "it is rewarding" to see them rail into Joe for killing them.
Joe's wife and former lover are the main attractions of the Episode 9 fever dream, which also features appearances from all of his Season 4 victims. As Part 2's major plot twist revealed, Rhys Montrose (Ed Speleers) isn't actually the Eat the Rich Killer like Part 1 made viewers believe. In truth, it was Joe all along. His mental state had declined so intensely that he not only forgot he had murdered all of these people, but had also packaged the serial killer side of his brain into an imagined projection of Rhys.
The real Rhys was close with Kate's (Charlotte Ritchie) Oxford friends and was really running for mayor of London, but Joe/Jonathan never actually met him until the day he killed him. Speleers' villainous character was a figment of Joe's imagination, created as a coping mechanism in response to his continued murder streak. The worst collateral damage of this memory loss was Joe entirely forgetting that he had trapped Marienne (Tati Gabrielle) in his well known cage, hidden in an abandoned basement near his favorite Indian restaurant. He had brought Marienne food consistently at first, but his mental breakdown caused him to forget she was there, nearly starving her to death.
The fake Rhys helped jog Joe's memory, and Love and Beck appeared in the nightmarish fever dream as he remembered the full truth. Lail had already come back for a similar sequence in Season 2, but the Episode 9 appearance marked Pedretti's first return since her character was killed off in the You Season 3 finale.
"Joe always has some kind of mind-bending journey at some point, and I was really happy I got to direct that episode," Badgley tells TV Insider. "That was really fun for me. Those are always amongst my favorite [scenes] and having [Pedretti and Lail] was just, of course, really nice."
Pedretti's character was Joe's perfect match given that they were both serial killers. But Joe's compulsive commitment to justify his murders made him see Love's killings as morally inferior. While she was murdered in the end, she was never one of the women trapped in Joe's cage (they trapped people in it together). But that changed in Season 4.
"Having Love in the cage, and just having Beck back at all and showing a different side to herself" was a highlight of the season for Badgley, as "she was a bit nastier than she got to be" in past seasons.
Another exciting surprise in addition to Pedretti and Lail's vengeful ghosts: Greg Kinnear! Check him out in the game-changing new episodes, streaming now.
You Season 4, All Episodes Streaming Now, Netflix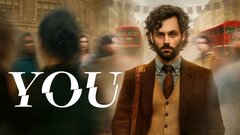 You
where to stream
Powered by