Is Rhys Really Gone? Penn Badgley & Ed Speleers Explain 'You' Season 4 Finale Twists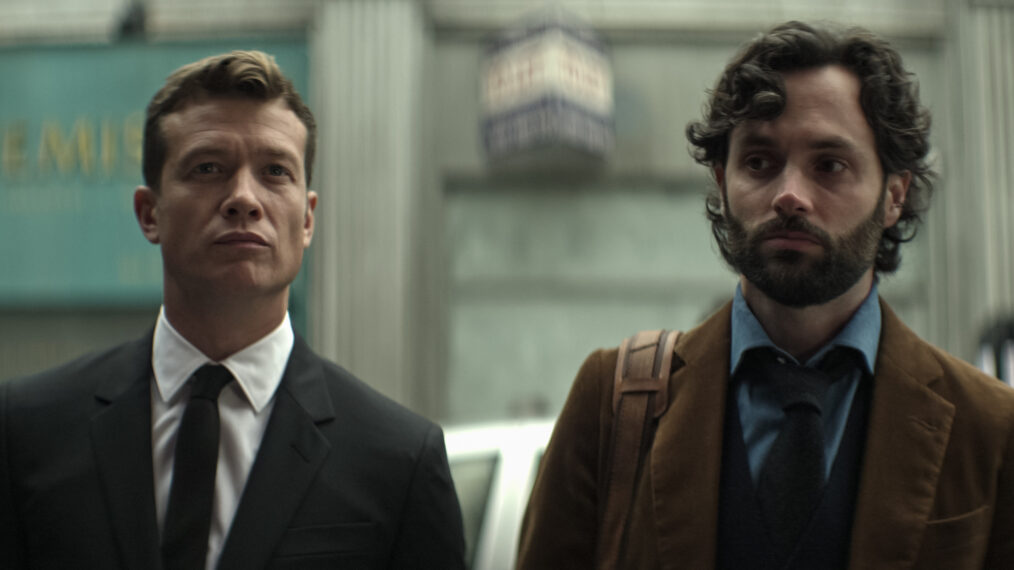 [Warning: The following contains MAJOR spoilers for You Season 4 Part 2.]
Joe Goldberg's reality comes crashing down in You Season 4 Part 2, streaming now on Netflix. But rather than his problems growing worse because of Rhys Montrose, the Eat the Rich Killer helps him understand them. And what he learns is horrific enough for Joe to see the dark depths of his actions for the first time.
TV Insider spoke with Penn Badgley and Ed Speleers to make sense of You Season 4's twisted finale. Here, they share what it means for the possible next season, which Badgley thinks could be its last. (Serious spoilers ahead, turn back now or forever hold your peace!)
Part 2 made the Part 1 Rhys plot twist null and void. After following the English politician to his country home, Joe tortured Rhys to death. Moments later, the Rhys we've seen all season long walks in, his dead double still strapped to the chair. First thoughts would make you think he was an evil twin, but the truth was more insidious. The Rhys Joe came to know was an imagined projection of the real man. Joe killed the real Rhys, whom he had never met until that day.
The mayoral candidate was secretly Joe's obsession of the season, just like Guinevere Beck (Elizabeth Lail, who also came back with Victoria Pedretti in the Badgley-directed Episode 9) in Season 1 and Marienne (Tati Gabrielle) in Season 3. Only Joe had no recollection of the Rhys box hidden in his flat, nor that he was the one who had trapped Marienne in the cage near his favorite Indian restaurant.
Speleers' character was an alter ego drummed up by Joe's broken mind. His mental state had slid to such bad depths after the events of Season 3, he went into a state of deep dissociation that caused him to suppress all memory of his London wrongdoings. Explaining this game-changing twist, Badgley tells TV Insider that having the serial killer part of Joe's brain portrayed by someone else was a thrill.
"It actually was some of the most fun I've had as an actor on the show. Honestly, the stuff with Ed Speleers, I loved," he shares. "I feel like it was the only place it could have gone and still be new. Ed and I had a lot of fun with it."
He also says Season 4 was "definitely" the time to dive into Joe's psyche while still keeping to the show's specific style.
"[Joe's] never gonna be a clinical portrayal of a serial killer or someone with mental illness, so that stuff is in there as much as it needs to be," he explains. "The show is more than anything this exploration of what we think of love in pop culture, I think, and how that actually influences our ideas of how we should be, which is pretty significant. I think the show is at this point where Joe has realized and the show has realized, 'Oh, it's not you, it's me. All of my fantasies and fears, everything that I want and need, you don't have it. It's not in another person. I've gotta discover that in myself.'"
"In Joe's own way, he has realized that. Somehow he has realized that without having any true emotional growth, because that would mean he's less able to kill people, I think," he adds with a wry laugh. "But that, to me, is where the show is headed."
Cycle breaking was needed in Season 4, Badgley says. This installment is about Joe knowing he's the one in the wrong. (That said, needle-dropping Taylor Swift's "Anti-Hero" in the finale was perfectly on-the-nose.)
"When we want him to be with somebody, when we want it to work and we just wish something hadn't happened, like, 'Ah! He didn't have to put her in the box. Why'd you have to sleep with Dr. Nicky?! He wouldn't have put you in the box! Why'd you have to find the box?!' That's when we know we're too much under the spell."
Then there's the terrifying development that is Kate's (Charlotte Ritchie) acceptance of Joe's past. The serial killer is now living in the bliss of being loved for who he truly is and has all the money in the world at his disposal. Despite this supposed happy ending, Badgley says Joe's emotional reality is "a terribly disturbed state to be in" when the season closes out.
"You seem him win in the end, because he technically has won. He has technically got it all," the Gossip Girl alum explains. "He has his kid back, he's got money now. You don't feel good for him. You certainly don't feel like, 'Oh, that must be great.'"
It wasn't great for Joe at first. Learning who Rhys really was traumatized him to the point where he nearly died jumping off of a bridge into a river. Badgley tells us that for him, this was primarily Joe trying to rid himself of his alter ego. Speleers tells TV Insider in a separate interview that the bridge scene "was a great way to sort of finalize that relationship." The double plot twist is what made the Outlander alum sign on for the series in the first place. The scene on the bridge, he says, is "the moments you want as an actor."
"For all of the everything in between, that's the sort of payoff," Speleers shares. "I think it was really well written."
"He wants Joe to realize his full potential and he wants to do it together," the actor describes of Rhys' motives. "I think he feels that they can genuinely be better together by being present with one another, being the best of pals. And I think he's heartbroken to think that actually Joe doesn't want that, and I think that's a lot for him to handle."
The fake Rhys, as Speleers describes it, has his own thoughts and feelings, which of course are all extensions of Joe's own mind. If Rhys wants something, Joe does too. But whatever part of Joe's brain made Rhys, that may be the one at the steering wheel. Finding the sympathy for Rhys came through finding it first for Joe, the actor says.
"In order for this alter ego Rhys to survive, he needs Joe to be a killer so that Joe needs him," Speleers explains. "This Rhys doesn't operate unless Joe needs and wants him. So there's this sense of longing between them."
"Rhys wants to sympathize with him, because if he doesn't, then he would just disappear," he adds. "This figment of his imagination wouldn't be. That's it … A lot of it is understanding why Rhys would want a thing like this, because it is Rhys putting so much of those thoughts into Joe's head. He's driving and positioning and being the puppeteer. So I feel that that's the main understanding for me that had to take place. If I understood why Rhys was wanting to do it, then I could get on board with Joe, because he's into Joe straight away, because Joe facilitated it."
Rhys is seen in Joe's reflection in the final moments of the finale. Does that mean Rhys will be back in the next season (should the Netflix hit be renewed), or that Joe has accepted Rhys as part of himself, aka accepted his murderous side for good?
"That's what I think it is," Badgley says of option two. "I think he's accepted that this is part of me, and I have to accept myself." We note to Badgley that Kate's acceptance of Joe gives him permission to fully be himself. And for obvious reasons, that's not great!
"Even just the way you're describing it, it makes me feel like there needs to be another season," he replies, "but you gotta talk to Netflix about that, or [executive producer] Greg Berlanti."
"It feels to me like it's building towards one last giant hurrah, but I don't know," Badgley notes. "I don't know if Rhys is a part of that. I don't know if Rhys is gone, or if [Joe has] become Rhys, what Rhys really is and represents. If Joe has really embraced this part of himself, what does that mean?"
That will be Season 5's mystery to solve.
You Season 4, Streaming Now, Netflix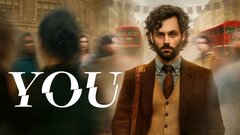 You
where to stream
Powered by