'How I Met Your Father': Sophie's Relationship With John Corbett's Chef Is 'A Big Wake-Up Call'
[Warning: The below contains MAJOR spoilers for How I Met Your Father Season 2 Episode 9, "The Welcome Protocol."]
Sophie (Hilary Duff) officially has a new man in her life on How I Met Your Father, and it's someone at a very different point in his life than she is. In "The Welcome Protocol," Sophie meets chef Robert (John Corbett) at an event, the two clash and then flirt over the food, and by the episode's end, they've kissed and are going to start dating.
"Obviously we're leaning into this notion that she's dating an older guy, and with that comes dating someone that is further along maybe in their career than you are, has more life experience than you do, and what does that do to you? Does it make you short circuit a little bit as you try and navigate a new dating situation and put your best foot forward?" executive producer Elizabeth Berger tells TV Insider.
And while Robert isn't one of the candidates to be The Father, this relationship will influence Sophie's journey to whoever that ends up being "in a major, major way," executive producer Isaac Aptaker teases. "Her relationship with John Corbett, yes, it's not meant to be, but it is a big wake-up call for Sophie in a lot of ways and sends her in a totally new direction that helps her be the person she needs to become before she's ready for the guy she's supposed to be with."
But this new relationship is starting unbeknownst to Jesse (Christopher Lowell), who, after another failed date, decides to listen to his sister Ellen (Tien Tran) and "go for it" with Sophie again because he's never moved on. And he thinks he might not be alone since he's been sensing sparks lately. Uh-oh.
Yes, things are about to get complicated. "One of the maddening things when you're trying to find your person, and you're in that dating space is the timing has to be just right on so many different ends," Berger says. "One person can be like, 'OK, this is my moment,' just as another person is turning their direction elsewhere. And that can be really frustrating, but also makes it sort of exciting as you wait for the stars to finally align. So we're seeing that, at least at that point, they haven't quite aligned for those two just yet."
Aptaker points out that Sophie and Jesse's time together was very short at the end of Season 1. "I think they're both reeling from that and not totally recovered from how spectacularly their short moment of dating flamed out," he shares. "So there's the timing of it, which is a big theme of this series and the original series, being on the same page at the right time, and then there's also all of the baggage that they're bringing to it because they're both really still smarting from the emotional wounds of that quick moment they were together."
Lowell agrees that "timing is everything", especially in this case, and it's hard to let go of feelings that might feel unresolved, as is the case here. "And I think Jesse's pretty freaking weak," he admits. "He so badly wants it to still be possible. So I think he'll take any opportunity to kind of live in that fantasy until it becomes a reality."
Both Duff and Tran like that all the characters in How I Met Your Father want to find love. "It's nice to have men on TV that can still have an open heart and lead with caring about love and not just like blowing through chicks," Duff says.
Echoing that, Tran adds, "every one of our characters, even in their weird, quirky way, are all emotionally intelligent. Everyone is sharing what they are feeling, talking to their close ones to try to resolve things. That's such a special thing about our sitcom."
Now if only some of them could figure out their love lives a bit faster.
How I Met Your Father, Tuesdays, Hulu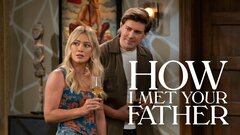 Powered by