Roush Review: Win or Lose, 'Ted Lasso' Is a Champ
We've always known that good-natured quipster Ted Lasso's (the charming Jason Sudeikis) heart is in the right place when it comes to coaching the U.K.'s underappreciated AFC Richmond soccer team. But is the American outsider's wounded heart truly still in the game? That question haunts Ted Lasso through its third, and possibly final, season.
Expectations couldn't be lower for Richmond, but they couldn't be higher for the beloved Emmy-winning series, returning after more than a year with Ted quietly smarting from his former protégé Nate's (Nick Mohammed) betrayal, defecting to a rival team owned by boss Rebecca's (Hannah Waddingham) evil ex, Rupert (Anthony Head). He's also missing his broken family back in Kansas and questioning his priorities. "I sometimes wonder what the heck I'm still doing here," he confides early on to his sidekick, the typically taciturn Coach Beard (Brendan Hunt).
Even at his lowest, Ted is still irresistible, greeting a baby in a carriage by quipping, "I recognized you from that show Leaky Diapers." He remains the fastest mouth on the continent, every rah-rah exchange peppered with head-spinning pop-culture references. But for a show that could be nearing the finish line, Ted Lasso seems to be hedging its bets in its many overlapping subplots. (The episodes this season can feel a bit bloated, clocking in between 40 and 50 minutes.)
Turning Nate into a contrived, conflicted villain has yet to pay emotional dividends, and those hoping for more magic moments between Rebecca and smitten Nigerian player Sam (Toheeb Jimoh), or the currently estranged power couple of profane player-turned-coach Roy Kent (Brett Goldstein) and saucy marketing whiz Keeley Jones (Juno Temple), will have to wait beyond the four episodes made available for preview. In hopes of keeping things interesting, the writers have invented a new wrinkle for one of its heretofore marginal characters and found a way to keep fired journalist Trent Crimm (James Lance) on board as he embeds with the skeptical team to write a book.
A change in circumstance raises the team's profile as the season progresses, but Ted's emotional crisis looms large while Rebecca urges him to fight back and he asks anyone who'll listen, "Am I a mess?" Maybe he is, but who else could engage a room of fellow coaches in an earnest discussion of Julie Andrews' merits? Ted Lasso is my kind of mess.
Ted Lasso, Season 3 Premiere, Wednesday, March 15, Apple TV+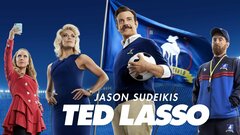 Powered by