'Florida Man': Edgar Ramírez Tracks Mobster's Runaway Girlfriend in Netflix Crime Series (VIDEO)
Netflix has debuted a new teaser for its upcoming limited series from This Is Us creator Donald Todd called Florida Man, starring Edgar Ramírez.
Ramirez plays a struggling ex-cop who reluctantly returns to his home state of Florida to find a Philly mobster's runaway girlfriend. "What should be a quick gig becomes a wildly spiraling journey into buried family secrets and an increasingly futile attempt to do the right thing in a place where so much is wrong," according to the streamer.
This 7-episode odyssey into a sunny place for shady people also stars Anthony LaPaglia, Abbey Lee, Otmara Marrero, Lex Scott Davis, Emory Cohen, Clark Gregg, Isaiah Johnson, Paul Schneider, and Lauren Buglioli.
In the trailer above, we see Mike (Ramírez) get involved with a mobster's wife, her going missing and him returning to Florida to find her, only for the hunter to become the hunted as she wrangles him into a $100 million job bound to go wrong.
Despite the supposed Sunshine State setting, much of the film was shot in Wilmington, North Carolina.
The series is executive produced by Ozark's Jason Bateman and Michael Costigan, who executive produces for Aggregate under their Netflix first-look deal. The show is part of Bateman and Costigan's multi-year production deal with Netflix from 2018 following the critically acclaimed Ozark.
The crime thriller has a darkly comedic side, judging by the teaser. We see several shots of Floridian chaos, including a top-down car sunk in the swamp with a subdued passenger, someone fishing a pistol out of the pond, gaudy flea markets, and a woman using hairspray and a lighter to scare away a raccoon…
Florida Man, Thursday, April 13, Netflix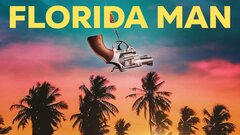 Powered by