'La Brea': Levi Gets Stuck Under Rubble in Finale First Look (VIDEO)
Things are getting explosive in La Brea's two-part Season 2 finale as an exclusive sneak peek clip unveils a tension-filled rescue mission to save Levi (Nicholas Gonzalez).
The moment, above, picks up at the beginning of "The Journey, Part 1," which begins airing at 9/8c on Tuesday, February 28. Following the explosion at the Lazarus building, Levi finds himself in a compromising position as he's stuck under debris. Awaking under a heavy metal bar, he looks around as flames engulf the space around him.
Thankfully, help isn't too far away as Gavin (Eoin Macken), Eve (Natalie Zea), Izzy (Zyra Gorecki), and more come to Levi's rescue. Beginning them to leave him behind, Levi's words fall on deaf ears as the group gets creative with their resources, utilizing a pole as a lever to lift the heavy metal off of Levi.
Can the group run away far enough before more explosions potentially encircle them? Only time will tell for certain. Already renewed for a third season, La Brea's Season 2 finale will pose the question of what happens now that the survivors' only hope of getting back home has disappeared.
In the first half of the two-part finale, Gavin leads the family toward a new way home, but each step inches them all closer to his devastating vision of Eve's death. Meanwhile, Levi is ostracized from the others but given a chance at redemption when an old foe proposes a deal. And viewers will have to tune in to see where the second half of the finale takes them when "The Journey, Part 2" at 10/9c.
Don't miss it when La Brea's second season comes to a close. And in the meantime, catch the thrilling clip, above.
La Brea, Season 2 Finale, Tuesday, February 28, Begins 9/8c, NBC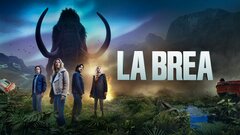 La Brea
where to stream
Powered by