Inside the Woody Harrelson & Justin Theroux 'Bromance' Behind 'White House Plumbers'
Move over, Felix and Oscar. True Detective's Woody Harrelson and The Leftovers' Justin Theroux are a mismatched delight as philandering former CIA agent E. Howard Hunt and onetime FBI guy/dedicated family man G. Gordon Liddy in HBO's upcoming White House Plumbers.
They were President Richard Nixon's political saboteurs (originally hired to stop leaks) and masterminds of the 1972 break-in at the Democratic National Committee in the Watergate building that inadvertently unseated their Republican boss.
"Woody leans into the tragedy of Hunt. Justin is Liddy," says director-executive producer David Mandel, who was a writer on the bitingly funny HBO political sitcom Veep. "Their characters are opposites, but off set, the [actors] would mess with and tease each other. That created this bromance."
Harrelson and Theroux are clearly having a blast in every second of this five-parter. It begins before the break-in with both middle-aged men yearning to be D.C. power players.
"Hunt's reputation had taken a beating because of his connection to the Bay of Pigs; he was desperate to be important again," Mandel says. "Liddy dreams of being a super-spy like James Bond. Their mutual desperation brings them together, along with a misguided idea to save the country."
They were true believers who swore allegiance to the president. But Nixon never went to prison. These earnest soldiers did.
The bromance at the forefront of the series is backed up by Lena Headey as Dorothy Hunt, Domhnall Gleeson as Nixon's White House Counsel John Dean, Judy Greer as Fran Liddy, Kiernan Shipka as Kevan Turner, Tony Plana as Eugenio "Muscolito" Martinez, Kathleen Turner as Dita Beard, and more.
The limited series is directed and executive produced by Mandel; created, written, and executive produced by Alex Gregory and Peter Huyck; executive produced by Frank Rich, David Bernad, Gregg Fienberg, Theroux, Harrelson, Len Amato, and Ruben Fleischer. It's an HBO co-production with executive producers Paul Lee, Mark Roybal, and Nne Ebong.
White House Plumbers, 2023, HBO
This is an excerpt from TV Insider's inaugural issue. For more in-depth, reported coverage devoted to streaming shows from the publishers of TV Guide Magazine, pick up the March issue of the new monthly publication, currently on newsstands or purchase it online here. You can also subscribe to TV Insider Magazine here now.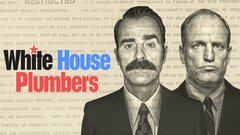 Powered by