'A Million Little Things' Stars Promise ABC Drama Ends 'in Big Way' (VIDEO)
A Million Little Things is going out "in a big way" for each of the characters, series star David Giuntoli (Eddie) promised when he, Romany Malco (Rome), and James Roday Rodriguez (Gary) sat down with TV Insider's Damian Holbrook to talk about the final season of the ABC drama.
By the finale, it will have been five years that we followed this friend group — Eddie, Rome, and Gary, along with Katherine (Grace Park), Regina (Christina Moses), Maggie (Allison Miller), and Delilah (Stephanie Szostak) — and the farewell begins with the premiere on February 8.
Heading into these episodes, we know that there's reason to be concerned about Gary (cancer), but this means that he'll have to accept help from others. "That's been the arc for Gary: learning how important self-love and accepting love is and it's actually what balances and makes the love he gives out so much more meaningful," Rodriguez says. "There's a fine line between martyrdom and true love, and I think Gary's learned oftentimes in the hardest way possible that the latter is so much more rewarding than the former."
Gary's not the only one who's learned an important lesson over the years. "The theme for Rome has been being able to filter out the things that are destructive to his mental health and nurture the things that are best for his health," Malco, who isn't sure about his character's ending just yet, explains. "That means more solidarity with his family."
Meanwhile, Eddie is in a much better place than he was at the beginning of the series. "Yes, he was despicable and making some extraordinarily destructive and selfish decisions and now there's enough road behind him where I'd say for the last four years, he really has been doing his best to make up for a lot of the harm he's caused," according to Giuntoli.
For more from Malco, Giuntoli, and Rodriguez — including the biggest piece of the puzzle for Gary and who will cry hardest on (and off) set when they reach the end — watch the full video interview above.
A Million Little Things, Fifth and Final Season Premiere, Wednesday, February 8.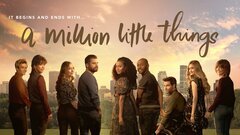 Powered by