10 Best 'King of the Hill' Episodes: Rewatch Now Before the Revival
Now that Hulu is reviving King of the Hill for new episodes, it's time to book a return ticket to Arlen. And we have 10 episodes to get you going!
The original King of the Hill aired on Fox between 1997 and 2009 as viewers followed the hijinks of the Hill family — Hank Hill (Mike Judge) and Peggy Hill (Kathy Najimy), son Bobby (Pamela Adlon), and niece Luanne (Brittany Murphy) — and their friends and neighbors.
And for the forthcoming revival, much of the King of the Hill voice cast is returning, with Judge and his co-creator Greg Daniels returning as executive producers alongside Saladin Patterson (The Wonder Years), who will also be a showrunner.
If you're yearning for a King of the Hill binge-watch before the show returns, the show's original 13-season run is streaming on Hulu. And IMDb voters have chosen the ten episodes below as the best of the series. Ho yeah!
10. Season 2, Episode 7: "Hank's Dirty Laundry"
In this episode, Hank fights to clear his name after a video store accuses him of never returning an X-rated VHS tape. Bonus: The late Lynne Thigpen, a.k.a. the Chief from Where in the World Is Carmen Sandiego?, voices the judge hearing Hank's case at Arlen County Court.
9. Season 4, Episode 15: "Naked Ambition"
Chaos ensues after Bobby accidentally sees Luanne naked. ("Luanne is practically my sister," he says. "I'm not supposed to see her in that state of affairs!") Meanwhile, neighbor Boomhauer (Judge) lands in a mental health center after falling asleep in an inner tube and floating all the way to Houston.
8. Season 6, Episode 21: "Returning Japanese"
In a double-length episode, Hank finds a half-brother he never knew he had during a trip to Japan. Turns out, the two men's shared father, Cotton (Toby Huss), had an affair with the Japanese nurse Michiko (Amy Hill) during World War II.
7. Season 4, Episode 6: "A Beer Can Named Desire"
While Hank shoots for an Alamo Beer sweepstakes' $1 million prize, his neighbor Bill (Stephen Root) reconnects with a female cousin and two cousins' wives. And when all three women pursue him, Bill can't remember which one is related to him by blood. (Finally, his aunt — voiced by Meryl Streep — asks him to leave.)
6. Season 13, Episode 20: "To Sirloin with Love"
The series finale of the original run, "Too Sirloin with Love," has Hank forge a new connection with Bobby after the teen joins the Heimlich County Junior College meat examination team. "It's like debate team," Hank says. "But instead of doing something useless, they compete by judging cut and quality of meat."
5. Season 4, Episode 5: "Aisle 8A"
In this Annie Award-nominated installment, teenaged neighbor Connie (Lauren Tom) gets her first period while her parents are out of town, and Hank is the one who has to guide her through that particular milestone of puberty. He at least has the good sense to take her to the titular "feminine hygiene" aisle!
4. Season 4, Episode 14: "High Anxiety"
Hank is in the line of suspicion when his boss' mistress — voiced by Reese Witherspoon — is found dead in a dumpster. It's not a good time for Hank to be high, but unluckily for him, he accidentally smoked a pot cigarette before his run-in with the cops.
3. Season 3, Episode 10: "A Fire-fighting We Will Go"
Hanks and his friends offer different versions of events after a firehouse burns down during their volunteer firefighter shift. One of the regular firefighters, meanwhile, is voiced by The Beverly Hillbillies star Buddy Ebsen in his last acting role before his death.
2. Season 5, Episode 13: "Ho, Yeah!"
Peggy agrees to tutor and even house one of Hank's new Strickland Propane coworkers — voiced by Renée Zellweger — before the Hill realizes that the woman is a sex worker. "From now on, the only woman I'm pimpin' is Sweet Lady Propane," Hank says later. "And I'm trickin' her out all over this town."
1. Season 6, Episode 1: "Bobby Goes Nuts"
In an episode that got Adlon an Emmy Award for Outstanding Voice-Over Performance, Bobby signs up for a women's self-defense class at the local YMCA — instead of the boxing lessons that Hank proposed — and learns to kick his male classmates in the groin when confronted.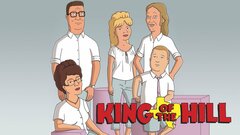 Powered by