Roush Review: Finding a Way Past Grief with 'Dear Edward'
Fans of tear-jerkers who've felt a void since This Is Us ended last year may flock to Dear Edward on Apple TV+, an emotional gut-punch of a drama from master manipulator Jason Katims (Friday Night Lights, Parenthood). The setup, which dominates the first of three episodes available at premiere, is beyond devastating: a plane crash from which only 12-year-old Edward (the soulful Colin O'Brien) survives.
Fisher Stevens directs that first hour, which may be the most harrowing depiction of a doomed flight since the pilot of Lost. Only this time the people you meet on board, with the exception of young Edward, live on solely in the memories of those left behind, who provide the focus of a series that tackles with varying degrees of histrionic success the process of grieving.
Even gluttons for sentimental punishment may grow weary over 10 episodes of survivor guilt, manifested by a "grief group" of sad souls assessing their shattered lives. These include Edward's unhappily childless aunt Lacey (the excellent Taylor Schilling), who takes in the sensitive "miracle boy," laboring to provide some normalcy.
Uprooted from upscale Manhattan to suburban Nyack, where working-class Lacey and husband John (Carter Hudson) walk on metaphorical eggshells, Edward finds solace with outgoing neighbor and classmate Shay (Eva Ariel Binder), whose obsession with roller derby brings the boy out of his shell little by little. When Edward chooses to sleep on Shay's bedroom floor, conjuring memories of sharing a room with the big brother he sorely misses, well-meaning aunt Lacey has to balance her own emotions against those of her inscrutable and on occasion understandably combustible nephew. Her impulsive decision to hide from Edward the torrent of "Dear Edward" mail pouring in will have consequences later.
If only the rest of the series were as finely drawn. The show's theme, voiced by another member of the grief group, is "Sometimes our path chooses us." And so it goes as mourners forge new relationships, exorcise regrets and consider paths not taken.
The subplots are uneven: some compelling — Anna Uzele is especially good as a politician's idealistic granddaughter drawn to a man from Ghana (the charismatic Idris DeBrand) who has come to care for his young niece — but more are sorely underdeveloped, including the story of Linda (Amy Forsyth), a young pregnant woman with no family to lean on, and Sam (Lin-Manuel Miranda lookalike Dario Ladani Sanchez), a father and husband whose confused sexuality is triggered by a high-school friend's passing. Some of these stories come out of left field midway through the season, feeling like afterthoughts.
And the less said the better about the contrived situation featuring an over-the-top Connie Britton as delirious Dee Dee, a pampered real-housewife stereotype. Even this pro can't make the aggravating Dee Dee sympathetic as she learns too late her husband's many secrets. She does, however, lighten the tone of what can otherwise be a forbiddingly grim, though at times undeniably affecting, slog.
Dear Edward, Series Premiere (three episodes), Friday, February 3, Apple TV+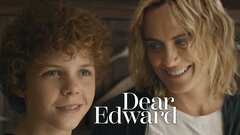 Powered by