'The Watchful Eye' Stars Felt a 'Weird Presence' on Set of the Thriller (VIDEO)
We'll binge a show about nefarious goings-on at a posh New York City apartment building any day (we love you Only Murders in the Building and we miss you, 666 Park Avenue!). And if the cast tells us the set was haunted — even more reason to watch!
That's what happened when TV Insider spoke with the stars of Freeform's The Watchful Eye. The new tantalizing thriller centers on a young woman, Elena Santos (Mariel Molino), a nanny in a tony high-rise, The Greybourne, where residents are dropping dead under suspicious, possibly supernatural, circumstances.
"I felt some weird presence," says Molino, who also revealed that her character, Elena is not innocent. "She's not who she says she is. That's what makes this story so interesting. You don't know who to root for."
Elena and her boyfriend Scott (Jon Ecker) are pulling a con on her employer, recently widowed Matthew (Warren Christie). That doesn't stop Elena from taking excellent care of his son Jasper (Henry Joseph Samiri) and befriending teen building resident Eliot (Lex Lumpkin) and fellow nanny, Ginny (Aliyah Royale). Royale adds that, when they were shooting, "I swear something whispered in my ear!"
Elena must dodge her suspicious sister-in-law Tory (Amy Acker) and building queen bee, Mrs. Ivey (Kelly Bishop) — but the most significant threat in The Greybourne may be something far more horrific than a nosy neighbor.
The Watchful Eye, Series Premiere, Monday, January 30, Freeform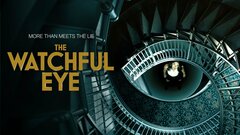 Powered by