Pamela Anderson Blasts 'Pam & Tommy' Team: 'You Still Owe Me a Public Apology'
Nearly a year after Pam & Tommy debuted on Hulu, Pamela Anderson is still angry with the creative team responsible for the limited series.
In a new interview with Variety, Anderson called the people behind the series "a—holes."
"Salt on the wound," she added. "You still owe me a public apology."
Pam & Tommy, based on a 2014 Rolling Stone article by Amanda Chicago Lewis, starred Lily James as Anderson and Sebastian Stan as her ex-husband Tommy Lee and followed the duo as they dealt with the theft and sale of a sex tape. Robert Siegel created the series, and Seth Rogen served as an executive producer and also played Rand Gauthier, the contractor who said he was the one who stole the former couple's sex tape.
Anderson told Variety she hasn't watched a single minute of Pam & Tommy but couldn't help seeing the billboards with James and Stan dressed up as her and her ex. "It just looked like a Halloween costume to me," Anderson said.
The Baywatch alum did say, however, that she asked Netflix to invite James to the premiere of her new documentary Pamela, a Love Story. "I think it's hard to play somebody when you don't know the whole picture," she explained. "I've got nothing against Lily James. I think that she's a beautiful girl and she was just doing the job. But the idea of the whole thing happening was just really crushing for me."
Anderson went on: "It was just shocking. Tommy probably thought it was funny. I remember Tommy writing me a note saying, 'Don't let this hurt you like it did the first time,' because he had heard through the kids that I was kind of struggling with the idea of bringing this all up again. I don't think he was portrayed kindly. I just know that I refuse to watch it."
At the 74th Primetime Emmy Awards, Pam & Tommy earned 10 nominations, including nods for James, Stan, Rogen, and the series itself.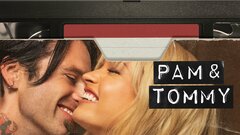 Powered by