Zach Braff Gives Update on Possible 'Scrubs' Reunion & Previews New Film 'A Good Person'
When it comes to TV favorites, Scrubs remains a beloved series among viewers making it a perfect candidate for a potential reunion special or revival, but does the cast feel the same way? Zach Braff seems to think so.
TV Insider caught up with the actor and director at the Paley Center for Media in New York City where he moderated a Q&A panel with the cast and creatives of Apple TV+'s series Shrinking. The event served as a mini-reunion for Braff and Scrubs creator Bill Lawrence who co-created Shrinking with Ted Lasso's Brett Goldstein and star Jason Segel.
The event also featured Braff's former colleagues Christa Miller who stars in Shrinking and Neil Goldman who executive produced Scrubs and the new series. Considering Braff's continued connection with Lawrence and co. we couldn't help but get his take on the potential of a Scrubs reunion or revival. "That's a good question for him," Braff told us as he pointed to Lawrence. "It all comes down to him. I think if he can figure it out, every single one of us would say yes."
Along with collaborating with Lawrence behind-the-camera on Shrinking and Ted Lasso, Braff helms a podcast — Fake Doctors, Real Friends — with real-life and onscreen bestie Donald Faison. "We do this podcast, Donald and I, and we have so much fun doing that," he noted. In other words, Braff is totally on board, "but it [would] be a hundred percent in [Bill Lawrence's] hands, if he said yes and figured it out, we'd all be there."
Braff played young doctor J.D. in the 2000s comedy which aired for seven seasons on NBC before moving to ABC for Seasons 8 and 9. Along with Braff, Miller, and Faison, the series featured Sarah Chalke, John C. McGinley, Judy Reyes, Neil Flynn, and Ken Jenkins among others. Scrubs focused on the day-to-day challenges faced by the staff at the fictional Sacred Heart Hospital.
In the meantime, Braff is returning to the big screen with his latest writing and directorial outing, A Good Person. The flick starring Florence Pugh and Morgan Freeman follows a young woman named Allison (Pugh) whose life falls apart after she's involved in a fatal accident. Of the film, arriving in theaters on March 24, Braff teased, "A Good Person is authentically a piece of myself in a way that people responded to [2004's] Garden State."
"I wrote Garden State when I was 25 years old… I was very young," Braff continued. "So now I'm 47 years old and I wanted to write something that was not really about my life specifically, but I have experienced a lot of grief and loss in the last couple of years and it is about standing up again and starting your life over after a tragedy."
Catch Braff's Shrinking episode and A Good Person when they arrive on TV and in theaters this spring, and we'll keep our fingers crossed for more Scrubs.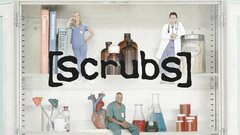 Scrubs
where to stream
Powered by