'How I Met Your Father' Team on Sophie's Run-in With Another 'HIMYM' Star
[Warning: The below contains MAJOR spoilers for the How I Met Your Father Season 2 premiere "Cool and Chill."]
"Challenge accepted," How I Met Your Father said regarding coming up with another surprise following Cobie Smulders in the Season 1 finale.
The Hulu series kicked off its second season with another How I Met Your Mother star appearing in the final moments of the premiere. As Future Sophie (Kim Cattrall) shared, in the present-day, she would hit rock bottom. And then we see Sophie (Hilary Duff) driving and leaving a message for her mother that she thinks she's dating her father… before rear-ending a car. Out steps Barney (Neil Patrick Harris) with "dude"! When Sophie's son asks who he is, she tells him they'll get there soon enough.
First of all, the How I Met Your Father executive producers have pretty much ruled out that Barney is Sophie's father; HIMYM canon states Barney lost his virginity in 1998, and Sophie was born in 1992.
"We always want to be true to what was said in How I Met Your Mother, so we never want to do anything that would conflict with that," executive producer Elizabeth Berger tells TV Insider. "That being said, obviously there's lots of wiggle room and openness there, so we are definitely very aware of the mythology and trying to stay true to it, but also sort of carving our own path in any way that we can."
As for that moment when Sophie and Barney cross paths, "there's a lot more to come there," executive producer Isaac Aptaker promises. "It's gonna be a really major seminal moment for Sophie in her life and in the series. So that's just a little tease of sort of where she's headed this year and we're gonna catch up with that in due time."
Furthermore, "[Barney] has a really, really major impact on [Sophie's] life in a very unexpected way," Aptaker teases, with Berger adding, "Obviously these are two very different people and when they get together it's gonna be really interesting and maybe not take the path that people would exactly expect."
When it came to bringing in Harris, "obviously we were so eager to get Neil back and we were so excited when he said yes," Aptaker says, noting that he and Duff had known each other and she had done an interview with him for his newsletter last year. "On set, they just really hit it off. They both kind of exploded at a very young age as child stars with their own TV shows, and then they both went on to be in the How I Met series. So they have a ton in common and it was really exciting to see them just sort of vibing and talking about all their shared experience."
Berger also shares that Tom Ainsley (who plays Charlie), didn't share scenes with Harris and Duff "but he came down just to watch him work."
And bringing in Harris meant a reunion with Pamela Fryman, who directed nearly all of How I Met Your Mother. That "was very exciting," Berger says. "They obviously worked together so closely on the original and to have him back and her directing him, it was all just like a love fest all around for the new people to work together and the people who had done it before."
Now that Smulders appeared in the Season 1 finale and we're seeing Harris in Season 2, might other How I Met Your Mother stars guest as well? "It's always on the table," Aptaker says. "One of our favorite things about the way this connects to the original show is that we inhabit the same sort of sitcom-ified New York universe. So anything's always on the table from the smallest of details of background set design Easter eggs to obviously much more major connections like having Neil."
How I Met Your Father, Tuesdays, Hulu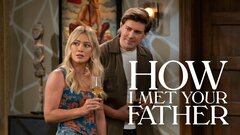 Powered by